Assistant Professor, RN to BSN Program Director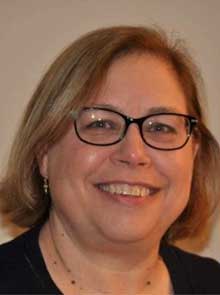 Dr. LoVerde joined Benedictine University as adjunct faculty in 2018 and Assistant Professor in January 2020. She assumed the role of RN to BSN Program Director in September 2020. Prior to joining Benedictine University Dr. LoVerde taught as adjunct professor for Elmhurst College in their MSN program. She also taught for more than 14 years at Aurora University in the BSN program. She has taught a variety of courses including Principles of Nursing lab, clinical, and didactic, Pharmacology, Community Health nursing clinical and lab, Evidence-based practice, and Health Policy.
Dr. LoVerde earned a PhD in Nursing with a focus on nursing education from Mennonite College of Nursing at Illinois State University. She earned a Master of Nursing from Saint Xavier University with a focus on community health and education. She obtained a Bachelor of Science Degree from Saint Xavier College. She holds a certification as a nurse educator from the National League for Nursing. She is an active board member of Sigma Theta Tau International Lambda Upsilon at-Large Chapter.