Embrace the Possibilities
Why Choose Benedictine University
At Benedictine University, we help you define your future through career-focused educational programs presented in a cutting-edge, engaging online format with personalized attention, support and learning resources. As a student and a graduate, you will always be a valued member of the Benedictine community.
A History of Innovation
Benedictine is known for consistently pushing the education envelope. We were one of the first schools to launch a fully online degree program and one of the first to adopt the latest in learning management technology. We're adding campuses across the globe and adding programs based on industry demand.
This spirit of innovation is an important part of how we help to prepare our students for a lifetime as active, informed and responsible citizens and leaders in the 21st century. Guided by our Roman Catholic tradition and Benedictine heritage, we want to set you on a path to success and service to the global community.
Same Programs. More Flexibility.
As an online student, you are a full member of the Benedictine community with access to the same quality programs as our campus students.
Same courses
Same faculty
Same course content
Your own home
Same diploma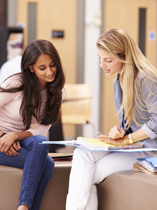 Abundant Student Support
The moment you request information from us, you will receive personalized support from a program manager who will answer your specific questions and help you through the admissions process. After your first week of class, you will be introduced to your student services coordinator who will provide support and resources to assist you on your educational journey all the way through to graduation.
Committed to an Exceptional Curriculum and Learning Experience
We are focused on delivering the highest quality course content and experience. Our team of expert instructional designers is highly skilled in incorporating the latest learning technologies and up-to-date content to align with dynamic industry trends.
Fast Facts About Benedictine
The Benedictine University community spans the globe. From our main campus in northern Illinois to our sites in southern Illinois, Arizona and Asia, we bring together students eager to pursue their passions and change the world.
year Benedictine was founded
years of academic excellence
total university enrollment
108-acre wooded campus located 25 miles west of downtown Chicago
Several additional class sites in Illinois
of graduates are very satisfied or satisfied with their overall experience as an online student at Benedictine.
average time spent by students per week on coursework
approximate number of online Benedictine graduates who work full time