Nursing is one of the nation's fastest-growing professions — and the backbone of today's ever-changing healthcare system. 
According to the U.S. Bureau of Labor Statistics, the number of new employment opportunities for BSN-prepared nurses is projected to jump 15% by 2026 — the largest increase of any occupation in the U.S. 
With your RN to BSN online degree from Benedictine University, you're equipped to meet the demands of this field and advance your nursing career. 
Quick, Convenient, Affordable 
Complete your BSN in as little as 12 months.* 34 total credit hours. 100% online. For only $415 per credit hour. 
Earn a high-quality education that's designed to fit the busy schedule of a working RN. You can complete the RN to BSN online program in as little as 12 months for $415 per credit hour. In addition, the program is flexible and convenient because you can complete coursework whenever and wherever works for you while allowing you to avoid commuting challenges. 
Plus, it is possible to complete both your BSN and MSN in approximately 36 months. Success in the online RN to BSN program may allow you to waive up to six credits in our Master of Science in Nursing program, saving you even more time and money. 
CCNE Accredited Nursing Program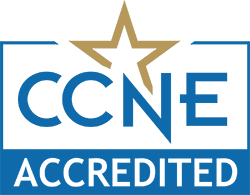 As a CCNE accredited program, our curriculum challenges you with coursework that applies your learning to real-world situations. You will complete activities that are relevant to the life of the RN working in partnership with a variety of stakeholders to enhance healthcare outcomes. You will advance as a professional and as a leader while gaining insights on fostering personal health and well-being. 
The baccalaureate degree program in nursing at Benedictine University is accredited by the Commission on Collegiate Nursing Education (http://www.ccneaccreditation.org).