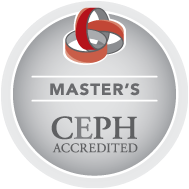 CEPH accreditation is nationally recognized as the quality standard of education and training in public health, awarded only to programs that meet lengthy, rigorous criteria.
Your Legacy? Improving Health Throughout the World.
It's an incredible feeling to live a life of service — to have touched the lives of many and to leave the world a better place. With Benedictine University's CEPH-accredited Master in Public Health (M.P.H.) degree online, you can potentially advance your career and expand your service in public health to help people worldwide live more healthy lives.
In our experiential program, you work with distinguished, practice-based faculty and gain real experience in research, analysis, policy and management through hands-on coursework and an internship.
To sharpen your skill set further, you also have the option to earn one of four career-focused graduate certificates in an area of public health along with your M.P.H., in the same amount of time it takes to earn your degree.
Why Choose Our Master of Public Health?
Your decision to return to school is a serious undertaking. In our own commitment to service, we do everything we can to remove barriers to earning a quality education.
Our M.P.H. program is:
Flexible. This program gives you the option to learn either 100% online or on campus. As an online student, you can study whenever and wherever works best for you while you continue to work full-time. And it's possible to complete your internship where you work now.
Attainable. You can earn your M.P.H. in less than two years or take up to 6 years to complete the degree. Request a GRE waiver if you have an advanced degree or a minimum GPA of 2.75 in your undergrad degree.
Supportive. You have a full-time academic advisor, financial aid advisors, virtual career services, and around-the-clock access to the help desk. You can even chat with an on-campus librarian to help you conduct research.
Experiential. You graduate with hands-on experience in research, policy, technologies, management and more.
Career-Focused. Earn one of four career-based graduate certificates in the same time it takes you to earn the degree, or take a more broad-based approach to learning.
Respected. You're joining an established and distinguished public health graduate program that's one of the largest of its kind in Illinois.
Rooted in Excellence. Our CEPH accreditation guarantees we teach you how to achieve excellence in practice, research and service through collaboration with organization and community partners.
We look forward to welcoming you in becoming part of Benedictine's rich history — which spans more than 130 years of academic excellence.
Where Do You Work With Your M.P.H. Degree?
Your M.P.H. degree may open the door to advancement opportunities and empowers you to make changes on a greater scale. Popular public health fields in which to apply your degree are:
Community Health Sciences
Environmental Health
Health Administration
Health Analytics
Health Education
Health Policy
To learn more about current career titles, average salaries and job growth statistics, click here.
I was put in charge of health practices at my current job in a residential treatment facility. I was able to implement a wellness program — for both staff and residents — and have become the go-to person for health- and wellness-related questions.
Learn From a Proven Curriculum
Focus on your career with comprehensive skills from a cutting-edge curriculum. Benedictine's M.P.H. degree has not only CEPH accreditation — which assures you that you're learning in a high-quality, relevant program — but also coursework that aligns to the core competencies developed by the Public Health Foundation (PHF) for public health professionals. This means you're gaining the professional skill sets needed for the career you want.
The curriculum concentrates on your ability to apply learnings and includes opportunities for self-reflection that help you readily adapt to change and grow professionally. It includes topics in:
Behavioral and social aspects of public health
Biological aspects of public health
Biostatistics
Environmental health
Epidemiology
Ethics in public health
Health policy
Health services management
As you explore electives, coursework may intersect with fields such as urban planning, government policy, advocacy, community organizing, social work, data analytics and social sustainability.
Ranked #5 for online Public Health programs – BestColleges.org, 2019

Listed in Best Online MPH Programs of 2023 – Forbes Advisor
3 Ways to Learn — Which Is Best for You?
The public health field is expanding, and specialized areas are becoming more common. The M.P.H. program offers three ways for you to get the experience you need to further your career faster.
M.P.H. + Graduate Certificate

Earn your M.P.H. and one of four graduate certificates in the fastest-growing areas of public health: Health Management and Policy, Health Education and Promotion, Data Analytics, or Epidemiology in no more time than it takes you to earn your degree.

M.P.H. Degree: Customized

Gain a broader scope of public health knowledge across multiple areas and select the combination of electives you're most interested in.

Graduate Certificate Only

If you need specialized knowledge in an area of study, but now is not the time to focus on a degree, complete the five courses in the graduate certificate option that best serves your goals right now. If you elect to complete the M.P.H. at a later time, credits maybe applied to the degree.
Get all the details on the Course Descriptions page.
Certificate
Skills & Knowledge
Health Management and Policy
Health care delivery systems
Public health policies
Developing policies and procedures
Health care budgeting
Strategic planning
Health care marketing
Health Education and Promotion
Health education methods
Certified Health Educator Specialist exam prep
Grant writing for public health programs
Behavioral, social and cultural aspects of health
Epidemiology
Statistical analysis
Research principles and methods
Collecting and analyzing data
Communicating research findings
Disease pattern analysis
Preventive health and medicine
Data Analytics
Analytical interpretation
Applied linear models
Biostatistics
Data collection and analysis
Problem solving in public health
Public health research
Statistical reasoning
Lead the Way to Worldwide Health
Find out more about Benedictine's M.P.H. program and the option that's best for you.
For our online program, call (866) 295-3104 today to speak with a Program Manager, or request more information.
Benedictine also offers the program on campus in Lisle, Illinois. Request information here for our campus program or call (877) 353-9622.