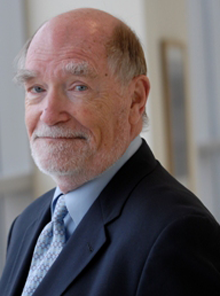 Sorensen is professor and Director of the Master of Science in Management and Organization Behavior (MSMOB) program as well as the Doctor of Philosophy in Organization Development program at Benedictine University. A pioneer in the Organization Development (O.D.) field, he helped establish Benedictine's MSMOB program, one of the first master's level organization development programs in the world. Sorensen was an invited, distinguished scholar to the first Academy of Management Conference on Global Change and has received numerous awards, including the "Outstanding OD Consultant of the Year Award" from the OD Institute. He is past chair of the Organization Development and Change Division of the Academy of Management and serves on several professional editorial boards, including the Midwest Academy of Management Journal.
The author of more than 200 articles, papers and books, Sorensen co-authored the first global OD book, Global and International Organization Development.
Publications: Peter F. Sorensen, Ph. D.
His work includes:
"Global Organization Development: Managing Unprecedented Change"
This book incorporates models of cultural differences, which are identified and expanded in terms of the implications for the practice of organization development.
"Appreciative Inquiry: An Emerging Direction for Organization Development"
An introduction to a shared mission for the creation of better, more fulfilling and more productive work places where the potential for OD and OD values are most fully realized.
"Critical Issues in Organization Development: Case Studies for Analysis and Discussion (Contemporary Trends in Organization Development and Change)"
With 30 case studies compiled in one OD resource book, both practitioners and academics can experience an OD challenge and value the differing responses from OD experts.
"Appreciative Inquiry: Foundations in Positive Organization Development"
For those interested in supplementing their organizational development skills with a thought process that is "outside the box," this book provides explanation and adaptation of Appreciative Inquiry.
"Strategic Organization Development Managing Change for Success (PB) (Contemporary Trends in Organization Development and Change)"
This book addresses how to plan for and create an organization capable of competing and excelling in a turbulent environment, one of the most complex and important issues for management and organization development today.
"Organization Behavior and Change: Managing Human Resources for Organizational Effectiveness"
To learn more about Benedictine's MS in Management and Organizational Behavior program and its faculty, call (866) 295-3104 today to speak to a Program Manager or complete the request more information form.