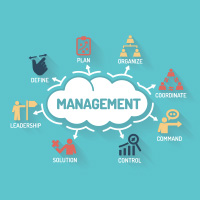 For many people moving into management, it signifies the achievement of a major career goal. It is the demonstration that their hard work has paid off and their contributions have been recognized. The trick of course is that at least half the people who get moved into management are not prepared for its realities.
The first thing to remember is no matter how much you feel overwhelmed as a new manager, it is Okay. Everyone else felt the same way at some point in time. Sure there are a few folks who seem unphased, but in my experience, those people are just better at hiding their stress than others. They are just as nervous as you are, they are just better at putting on a 'brave face'. All you have to do is put on your brave face too. It takes a little practice, but it is not that hard to do.
The second thing that new managers need to know, is to fully understand what is expected of them and their team, then clearly communicate what is expected to the team. When we closely manage the process we get the outcomes we need. We also need to recognize that there are some people who will never ever do things as well as we want them done. It doesn't matter how many times we communicate the steps, and no matter how much we try to develop them, some people will just comprehend more or differently than others. That is Okay, however, because showing how we manage adversity and still keep moving towards the long term goal is one of the criteria it takes to be an executive. That of course leads to the final thing that all new managers need to know. Start behaving, talking and acting like an executive now to prepare for your future leadership roles.  
Learn how our online Master of Business Administration program can prepare you for a leadership role, call 866-295-3104 to speak with a Program Manager today. 
About the Author
Jimmy Brown, Ph.D. is a senior level management consultant with eighteen years of experience leading efforts to develop and implement practical strategies for business performance improvement. Dr. Brown has held senior level consulting positions at leading firms such as Booz-Allen & Hamilton, Accenture and Hewlett-Packard. 
He can be reached at www.jimmybrownphd.com or via Twitter @jimmybrownphd