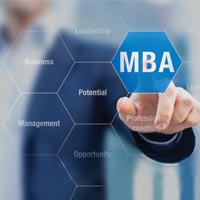 The healthcare industry is growing so fast that it's breaking records and shows many signs that it's likely to keep expanding. For example, hospital job growth exploded in 2015 with a 306 percent increase over the previous year.1
With that level of progress, the healthcare industry needs qualified leaders who can combine business acumen with insights specific to this fast-growing sector. That's why many healthcare employers are looking for those who've earned an MBA in healthcare administration. They bring the knowledge and experience that helps organizations keep pace in an ever-changing industry.
Why an MBA in Healthcare Administration
With an MBA in healthcare administration, you can bring together several major business strategies within an organization, including financial management, operational efficiency and marketing activities.
Drawing on the deep business insights provided by an MBA, the specialization in healthcare administration integrates courses that relate to specific healthcare issues. For example, you may learn about the impact of environmental factors on community health or how marketing theory applies specifically to public health campaigns.
Many who choose an MBA in healthcare administration — particularly those who pick an online MBA for its convenience — come from career backgrounds that pair well with this advanced education.
For instance, you may be serving as a marketing director, financial manager or HR director at a company that's not part of the healthcare industry. With an interest in patient outcomes and a desire to step into a fast-growing field, you can easily make the switch to healthcare with this specialized MBA. 
Those within the healthcare industry can consider an MBA in healthcare administration as a track toward leadership. Nurses, community health managers, health insurance managers and others will be able to take on greater prominence in the field and greatly expand their career options. 
Career and Salary Outlook
One of the most attractive aspects of an MBA in healthcare administration is that it prepares you to take on a leadership position in a very wide range of settings.2 
One graduate might opt to handle all the administration for a small specialty group practice that includes a handful of physicians, acting as a combination of office manager, hiring director, financial analyst, marketing expert and policy developer. 
Another might prefer a large acute care hospital where healthcare administration aids in keeping a busy surgical floor on track or streamlines the use of medical records. In that role, the administrator might supervise a large, diverse team that includes accountants, nurses, regulatory experts, HR personnel and receptionists. 
No matter what type of healthcare setting you choose, an MBA in Healthcare Administration will give you the skills needed to excel and thrive wherever you land. Not only will you have insights into the field itself, but you'll also have communication expertise, an analytical perspective and problem-solving acumen.
According to the U.S. Bureau of Labor Statistics, healthcare administrators are paid well for possessing these valuable skills. The average annual wage in 2014 was reported as $92,810 — but some healthcare organizations pay well above that and may also include a signing bonus upon hiring. 
The Bureau also notes that the expected job outlook for the specialty is 23 percent growth in the next five years. With that kind of demand, there's never been a better time to combine business skills with healthcare expertise in the form of a healthcare administration MBA.
For more information about Benedictine University's Online Master of Business Administration in Healthcare Administration degree program, call 866-295-3104 to speak with a Program Manager or request more information.