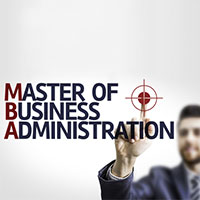 Making the decision to pursue an MBA is not an easy one. There are many reasons an individual will pursue an MBA. Whether it be to acquire the knowledge necessary to position yourself favorably for a promotion, or to achieve a goal you've long set for yourself or to show your kids anything is possible if you set your mind to it. Regardless of the reasons, there are fundamental qualities a perspective student should possess to be successful in an MBA program.
1. Time Management
It goes without saying there is a significant time commitment a perspective student must dedicate to pursuing an MBA. Each class in the MBA program is not identical in structure. However each class has a cadence of requirements and deliverables. Managing to this cadence begins with a thorough review of each class syllabus and associated materials. Procrastination in meeting deliverables must be avoided. Formalizing a weekly schedule to devote time to learning is strongly suggested. Waiting until the eleventh hour to complete assignments leaves no margin for error.
Instructing analytical classes for many years I warn my students about waiting until the last minute to solve problems. It is hard to get help at midnight the day before class!
2. Being An Effective Team Member
As many of us experience in our work lives, being on teams is simply fact. Learning how to build relationships with others to get things accomplished in the MBA program is no different than in the real world. How to get things done on a team can prove challenging in an MBA program due to the students other priorities. I am certain you can all share a good team as well as poor team experiences. The key take away here is to lay out a clear path with your school colleagues on the deliverables and how you will achieve them. Commitment and participation are critical. Horror stories have emerged about students who are not engaged in a team setting with the other members completing the project for the grade. Do not be an absentee team member. Deliver what is required and on time.
3. Ability To Apply Independent Thought (Critical Thinking)
When pursuing an MBA you will be taxed with finding solutions to problems. Analytical classes are fairly straight forward. Using problem sets to reinforce the subject matter is an effective way of learning. Tied to this is a more complex and relevant learning tool, the case study. Unlike your undergraduate years, an effective analysis of case studies and similar situational tools require you to not simply compose a book report but delve deeper into why the firm made these decisions. I ask my students to close their analysis by making recommendations for the firm going forward. This is to include a "market basket" of various ideas the firm could evaluate in the future.
4. Willingness To Learn – Building Your Toolbox
A good MBA student uses this time to add to their knowledge tool box. Most programs offer core classes as well as an area of concentration. Future students choose their path of study. However, this is also an opportunity to explore other areas of study as well.
When I pursued by MBA I completed an elective in International Marketing. Marketing is not my area of interest but I saw this as an opportunity to learn an area outside of my concentration.
5. Knowing When To Ask For Help
This is of particular importance because many students feel that seeking help may show weakness. The opposite is quite true. As an instructor I appreciate when a student reaches out to ask for help. It may be due to a key concept or deliverable being unclear. This quality is of particular importance since seeking assistance is strength in one's character. Not every MBA student comes from the same background. There are topics in the MBA program that may prove difficult for a student to master. The student should not be afraid to raise questions or ask for assistance. Most likely there are others in the same class experiencing the same issues!
In summary, the ability to pursue an MBA requires dedication and perseverance. The concepts the student will learn within the MBA program will increase the knowledge and add to the skills "tool box". Using collaboration with others and being engaged will enable a student to experience the value an MBA has to offer.
Do you think you have what it takes to earn your MBA?
Visit us at online.ben.edu or call us at (866) 295-3104 to learn more. You may even ask one of our Program Managers for a free online readiness exam!
About the Author
Pete Papantos is an operations director at a Fortune 500 company. He is responsible for the global execution of their strategic plan and driving operational excellence using lean methods. In addition, Pete is a graduate instructor with emphasis in operations and strategic management — both in traditional and online settings.