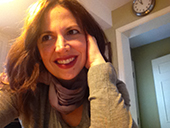 Many of my peers challenged my decision to pursue my MBA. I was already a successful marketer for over 15 years holding executive level agency positions.  So why did I need an MBA? If experience has taught me anything, it is that nothing has more value than continued learning. My field is highly competitive, increasingly digitized, and ever changing.  Continued knowledge growth is required to compete. Thankfully, through my experience with the MBA program, what I have learned has far surpassed my expectations.
Why wouldn't I just brush up by taking a few classes or attending seminars?  Picking and choosing singular classes or individual growth opportunities within your chosen field cannot yield the same exponential growth as the journey of the MBA. Benedictine University is a smart choice for those considering an online MBA program.   Their digital marketing emphasis proves they are a progressive leader in education. The faculty is comprised of practitioners teaching from a modern curriculum that emphasizes current case studies, newer companies and emerging markets. 
Benedictine's online curriculum option is flexible, appropriately challenging, supportive, and collaborative. It is the perfect option for me as a busy professional and mom. I am grateful for the MBA coursework at Benedictine University that I have completed, and am confident it is improving my skills in order to excel in today's workforce.
Benedictine's Online MBA
Benedictine University offers an MBA that features dual degree options and seven concentrations including Internet Marketing as highlighted above. More information can be found here or by talking with one of our Program Managers who are eager to help with your questions.