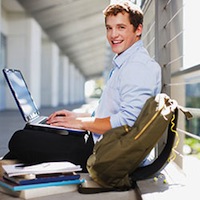 Over 7.1 million students were taking at least one online course during the fall 2012 term, an increase of 411,000 students over the previous year.
Online programs afford students the opportunity to study at their preferred brick-and-mortar university regardless of their proximity to the school's campus location. Students often are taught by the same faculty utilizing the same course materials as what is used on campus. In fact, the percent of academic leaders rating the learning outcomes in online education as the same or superior to those in face-to-face grew from 57.2 in 2003 to 77.0 percent.
Online programs offer flexibility in time management, speed to completion and a customized learning experience. All of these benefits align with the growing popularity among professionals, yet there are still myths that can make prospective students hesitant.
1. MYTH: Online degrees are not as valuable as a degree earned on a physical campus.
Online courses often utilize the same curriculum, the same faculty and offer the same rigor as on campus courses and students earn the same diploma as they would earn by attending the campus program.
2. MYTH: The courses are shorter, so curriculum must be getting skipped over.
Courses are generally 8-12 weeks in length and students typically take one course at a time to be considered full time.
Also, no course content is skipped over by offering a shorter format. The course offers the same content as a student would get from a ground program. The difference is that students do not need to come to campus nor do they have mandatory login times providing the flexibility to still maintain one's busy day to day commitments that may include a career and/or family.
3. MYTH: Online faculty is unavailable and difficult to reach.
Faculty is available via email, phone, scheduled office hours and skype. Faculty are very involved with their students and spend a great deal of time reviewing the discussion boards and assignments and providing thorough feedback and guidance.
We also offer additional support through career advisors, academic advisers, a personalize student services coordinator, writing center, library and more.
4. MYTH: There will be no structure to keep students on track.
Online courses, while designed with the flexibility to fit into your current schedule, still have deadlines. At the beginning of each course, students receive a syllabus outlining the course structure, assignments, projects and deadlines that students will be measured by, just as they would in a course taken on campus.
5. MYTH: It will be difficult to communicate with classmates.
Through Benedictine's learning management system Engage, students and faculty create profiles where you are able to learn about your classmates and faculty. You can see who is online now allowing you to get to know each other and help each other when needed.
Courses also contain discussion boards. This is a great way to share ideas, learn from each others experiences, network with others from around the world.
Engage also offers students the ability to create a group – for instance if you want to create a study group or book club you can through the learning management system.
Benedictine University has been a thought leader in higher education for more than 125 years. Nationally recognized for academic excellence, Benedictine is listed as the No.1 fastest-growing campus in the country among private nonprofit research universities between 2000-2010 by The Chronicle of Higher Education, and was named among "America's Top Colleges" for the third consecutive year in 2013 by Forbes magazine. Offering undergraduate, graduate and doctoral degrees in business health, leadership and nursing – Benedictine has many options for the adult learner.