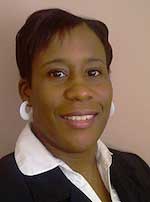 Monique Pinkney holds a B.S. in Business Operations from DeVry Institute of Technology and an M.B.A. with a concentration in Accounting from the University of Phoenix. Pinkney has lectured in several on-line courses at Benedictine University since 2010. Those courses are all in the MBA program including Financial Accounting, Creativity & Innovation in Business and Entrepreneurship.
Pinkney has worked in the area of accounting and business for over 20 years. She has held positions including, Assistant Controller, Business Analyst, Accounts Payable Specialist and Payroll Associate for several large Corporations.
Pinkney also currently works part-time for the Douglas County School system where she works specifically with the Title I schools in the county. She has a love for teaching and being able to affect change in the area of education at all levels.
Pinkney is also a registered Girl Scout and assistant troop leader for the Girl Scouts of Atlanta and sits on the board for Higher Standards Foundation.
Finally, Pinkney is currently the owner of 4M Tax and Financial Services since 2013, a mobile tax preparation company where she specializes in small business and individual tax preparation and small business accounting services such as 1099 preparations, payroll and accounts payable services. Pinkney owned a Tax preparation franchise for 5 years before starting her own tax preparation business.