Master's Programs Preparing Nurse Educators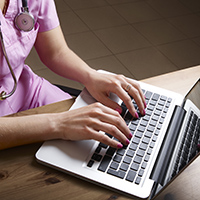 As a response to the nursing faculty shortage, nursing educators were urged to provide increased opportunities in graduate programs to prepare faculty. A number of master's programs with nurse educator tracks were created as a result of this strategic curricular shift.
Consequently, as nurse educator programs increased, the need for standards to help guide the curricula was needed. Accrediting bodies, such as the American Association of Colleges of Nursing (AACN) provided such guidelines. The AACN developed the Essentials of Master's Education for Advanced Practice Nursing to serve as a framework for all master's programs in nursing. It is important to note that there are core elements of the Essentials that assist programs in developing their curriculum to prepare students for direct care roles. The direct care core, which is one of three components necessary for a Nurse Educator Graduate Program curriculum, is essential for an individual to provide direct patient level care at an advanced level. The direct care core is more commonly referred to as the 3 P's of Nursing:
Physical/Health Assessment
Physiology and Pathophysiology
Pharmacology
The 3 P's of Nursing not only provide a framework for nurse educator programs to prepare their students but this core competency prepares graduates to assume responsibility, accountability and leadership roles in addressing many of the gaps and growing population needs in health care. Nurses play a vital role in health care to address evolving patient needs, so it is important to find a graduate level program that has the ability to meet these challenges. The AACN emphasizes the importance of students' ability to evaluate health and illness experiences of clients, to assess an individual's response to pharmacologic management of illness, and have the basic understanding of pharmacologic principles, which includes the cellular response level.The 3 P's of nursing are essential in advanced practice today and are integrated within the curriculum of the Benedictine University online MSN program's Nurse Educator concentration.
Benedictine University prepares students to become future leaders in education and ensure their curricular decisions are evidence-based and on the cutting edge of national trends in health care. Here's a look into Benedictine's Online MSN Nurse Educator curriculum:
Advanced (Physical) Health Assessment. This course builds upon the student's previous health assessment experience to provide the foundation for advanced roles in nursing. The course emphasizes physical, psychosocial, spiritual, and functional assessment among diverse populations. Advanced assessment topics include focused health histories, advanced physical assessment techniques, differentiation of assessment findings, and health assessment documentation standards.
Advanced Pathophysiology. The course focuses on the application of advanced knowledge of the complex physiological functions and pathophysiological processes to the care of individuals with health care problems. Course content examines alterations in function as well as adaptive, integrative and regulatory mechanisms at the molecular, cellular, organ and system levels. The course is designed to enable the graduate nursing student to recognize and analyze these physiological changes, and to apply this knowledge in a wide variety of clinical settings.
Advanced Pharmacology. This course provides the graduate nursing student with the necessary knowledge to develop a greater understanding of pharmacology and application. The course content builds upon the student's current understanding of pharmacology. Students will explore the principles of pharmacology as they apply to various disease processes with consideration of medication selection factors, client adherence, and ethical implications. Clinical application of pharmacological management, adverse reactions, and patient education implications are presented through case studies and scenarios.
Are you interested in learning more about how Benedictine's online MSN program can educate you on the importance of the 3 P's? Click here to learn more.
About the Author
Dr. Jasmin Whitfield RN, MSN, MPH, DNP is an adjunct faculty member in the online MSN program at Benedictine University. Her extensive background includes progressive administrative roles in acute rehabilitation services and community health nursing. In addition, Dr. Whitfield is currently accountable for the oversight and organization of the Health Services Department at Sidwell Friends School's D.C. campus including but not limited to health and wellness promotion and outreach and developing and managing occupational health and safety education, policies, and programming for students and employees. To learn more about Dr. Jasmin Whitfield please visit our online nursing degree faculty section.