Nurse educators, nurse leaders and nurse administrators are some of the most in-demand professionals in the country and choosing the right degree program will ensure you have the skills necessary to lead the next generation of nurses.
One thing that sets apart nurse leaders is their professional stance. A professional stance is rooted in value-related philosophical assumptions that are specific to a profession. This means, among other things, that the professional activity is governed by unique knowledge as well as by professional codes of ethics. The nurse has an independent professional responsibility, a scientific base for the exercise of the profession. Nursing actions are based on a holistic and humanistic view of the human being. Development of the professional stance requires moral judgment as well as awareness of the autonomy of the nursing profession and its areas of knowledge and responsibility.
There are four levels of professional stance that nurse leaders advance through. Outlined in the table are the four levels and the activity related to each.
For more than 25 years, Benedictine University's online Masters in Nursing (MSN) degree program has been preparing registered nurses (RN) to become future leaders who embody the utmost professional stance.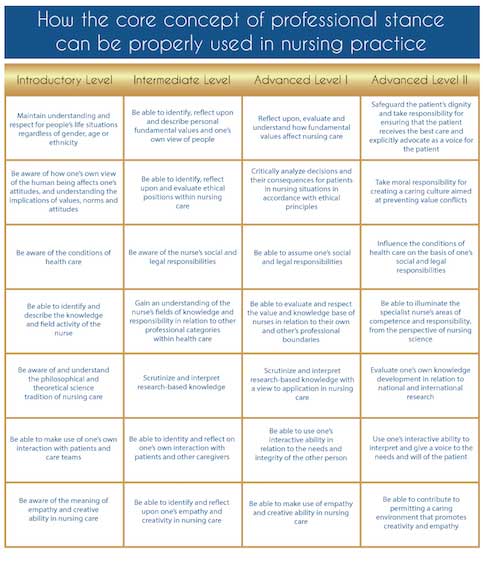 Benedictine's online MSN is accredited by the Commission on Collegiate Education (CCNE) and aligns with the graduate education standards specified by the American Association of Colleges of Nursing. The 100 percent online MSN offers two concentrations, as a Nurse Educator or Nurse Executive Leader, and a dual MSN/ Master of Business Administration (MBA) option.
Call Benedictine University at 866-295-3104 to speak with a Program Manager or visit online.ben.edu to learn more about how you can become a nurse leader.
References
Adapted from: Jerlock M., Falk K. & Severinsson E. (2003) Academic nursing education guidelines: Tool for bridging the gap between theory, research and practice. Nursing and Health Sciences 5, 219–228. [WWW document]. URL http://onlinelibrary.wiley.com/doi/10.1046/j.1442-2018.2003.00156.x/abstract [accessed on 10 June 2014]