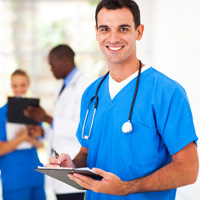 In our rapidly evolving health care industry, the role of nurses is progressing far beyond the clinical environment and advanced nursing careers are rich with opportunity. Demand is high and options are diverse. The U.S. Bureau of Labor Statistics predicts more than a half million new nursing jobs by 2016.
Nurses have opportunities in nearly every facet of health care, from policy creation and education to IT implementation and private practice specialization. With an accredited online MSN program, that can be completed in as little as two years, nurses can quickly expand their horizons and career options.
Informatics Nursing Specialist
The American Recovery and Reinvestment Act (ARRA) spent approximately $19 billion to implement electronic health records systems that improve the delivery of patient care.  With this evolution comes an increasing demand for nurses who understand these systems.
Technology-savvy nurses can use their Master of Science in Nursing (MSN) degree to pursue informatics nursing, a role vital to modernizing health care. This rapidly changing field is a unique combination of two different types of science: computer and health.
In practice, informatics specialists bridge communication between health care workers and IT departments to ensure that data systems can help improve efficiency and care for patients.By working with information technology experts and software engineers, nursing informatics impacts how digital information is shared, managed and stored.
This specialization opens up many options relative to work environments. Universities, consulting firms and health care corporations are just some of the workplaces that seek the expertise of professionals in health care informatics.
Nurse Educators
The advancement of nursing depends on those who have worked in the health care field to teach future generations and educate patients. An MSN degree provides nurses the expertise to advance to meet the increasing demand for educators.
The American Association of Colleges of Nursing (AACN) reports that schools had to turn away more than 75,000 qualified applicants for undergraduate and graduate programs in 2011, due in large part to faculty shortages. The AACN adds that one of the top reasons for such shortages were the limited selection of faculty with proper master's and doctoral credentials.
Nurse educators can merge their clinical expertise with their enthusiasm for teaching in multiple ways including:
Higher education: nurse educators guide students by sharing a wealth of practical knowledge which also extends far beyond the classroom allowing the nurse educator to become involved in peer reviews, presentations, research and grant writing proposals.
Medical device or pharmaceutical companies: work to educate hospital staff on products, devices and medication.
Direct patient education: teach patients how to manage illnesses and medications.
Nurse Executive Leaders
The clinical experiences of nurses are also essential to the administrative and business aspects of health care. Nurses who demonstrate excellent leadership and critical thinking skills may want to acquire their MSN degree to become a nurse executive leader.
The Bureau of Labor Statistics anticipates the employment of these executives to grow by 22 percent between now and 2020. The American Organization of Nurse Executives (AONE) suggests the demand for nurse executive leaders outweighs the number of RNs achieving MSN degrees, a credential needed to pursue the position.
Nurse executive leaders act as the direct agents of change in health care settings. By combining their clinical expertise with business insight, nurse executives understand the demands of health care staffing and determine what is needed for proper patient care.
Nurse executive leaders are like business owners—implementing budgets, supervising human resource departments, ensuring quality or safety regulations and leading projects. In addition to working in hospitals, these executives also put their skills into practice in outpatient centers, insurance companies, nursing homes and other health care facilities.
An online MSN from Benedictine offers nurses with their Bachelor of Science in Nursing (BSN) a way to translate clinical experience into a more specialized area of interest offering an excellent gateway for increased earning potential and leadership opportunities. If you are interested in learning more about Benedictine's MSN click here or speak with one of our Program Managers today.
Related Benedictine Programs
With the proper stress management, a health care career in nursing is one of the most rewarding careers available. Benedictine University offers an online accredited Master of Science in Nursing (MSN) degree for those looking to advance their nursing careers while juggling their busy work and personal schedules. To learn more click here or talk with one of our Program Advisors today.