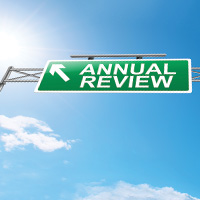 An annual review can cause stress and anxiety for nurses – but it doesn't have to. While it might seem daunting at first, you can prepare to shine in your review by practicing the following all year long:
Find a Mentor
Experienced nurses have been in your shoes and can serve as a great source of advice and support as you advance in your career.
Increase Visibility
Think beyond your job description. Make others take notice of you by speaking up, volunteering to help with additional projects and share your ideas. Take the time to get to know your colleagues and make an effort to be a valuable resource to them and the organization.
Keep Learning
Look into a Master of Science in Nursing (MSN) or nursing certification program in your field. You'll learn from experienced professionals, interact with others in your area of interest and add credentials to your resume. Also consider attending conferences that increase your exposure to health care industry trends.
Network
Make networking a priority all year long. Talk to a variety of nurses and check-in with former colleagues and professional connections once in awhile. Attend special company events, conferences and gatherings to meet people outside of your workplace and connect with experts in your field. You can also make use of social media platforms by joining industry groups on LinkedIn to connect with professionals in your field across the country.
Request More Work
Take on more responsibility in the workplace. It shows that you are serious about your role and take an active interest in the hospital. When asking for more work, however, make sure you have availability to actually do the work! Don't sabotage yourself if you don't have enough time to complete your charts on time or deal with a difficult patient.
Start Writing
Pitch some content ideas to reputable health care trade magazines. Getting published helps to position you as an expert in your field. Another option is to start writing online – create your own blog and write about your area of interest. If you do it well your audience will grow and you will have an additional experience to discuss during your review.
Take Ownership
You are responsible for your nursing career. Don't take the backseat – show initiative, take responsibility and be innovative. A little confidence goes a long way.
Show your commitment to advancing your career with an MSN degree. Learn more about the online Master of Science in Nursing program at Benedictine University that features two concentrations from which to choose – both of which prepare you academically for advanced nursing certification. Call us at (866) 295-3104 to learn more or visit us at online.ben.edu/msn.