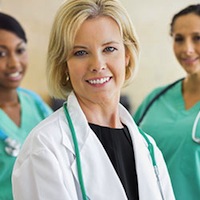 Many nurses wonder if taking the plunge and earning a Master of Science in Nursing (MSN) is a worthwhile investment of time and money. The evidence overwhelmingly shows that adding a Master's in Nursing to your educational credentials paves the way to new job opportunities, different roles and a higher salary. When you earn your Master of Science in Nursing online from Benedictine University, you can continue to work in the nursing field while you build your nursing knowledge and skills – all around your busy lifestyle.
An online Master's in Nursing degree can increase your worth to a hospital or organization, as it makes you a valuable asset to their team. Check out these five ways that earning your MSN degree online makes your skill set more appealing to employers.
Gain Administration-Level Knowledge
Earning an online MSN degree helps you acquire advanced training and skills to become a nursing administrator in a hospital or clinical institution. You'll obtain sought-after knowledge in high-level areas including policies and procedures, patient care and trends in the healthcare system.
Strengthen Management Skills
Through targeted coursework, an online MSN provides in-depth training in staffing, budgeting and day-to-day operations. Hospitals and organizations look to hire candidates with an understanding of these critical business management techniques.
Learn Leadership Methods
Boost your leadership abilities. Hospitals and organizations are always looking for leaders to fill high-profile roles. Online MSN coursework helps nurses foster leadership skills, as they learn key methods to run departments, act as mentors and teach enrichment courses.
Get a Solid Understanding of Finance
When hiring upper-level staff, hospital HR representatives look for candidates with a solid background in a variety of non-clinical areas, including finance. Online MSN courses give nurses seeking an administrative role an understanding of the financial side of the healthcare, such as reimbursement models, financial regulations and cost/benefit analysis.
Become a Quality Assurance Expert
The ability to ensure the hospital or institution is operating at the highest quality standards is vital to the survival of the organization. Nurses with an MSN are trained in Quality Assurance – a critical, ongoing process that helps the organization adhere to strict guidelines to achieve top standards and accreditation.
Registered nurses who are ready to explore a nursing master's degree that fits their busy lifestyle can explore the online MSN at Benedictine University. Visit online.ben.edu or call us at (866) 295-3104 to learn more.