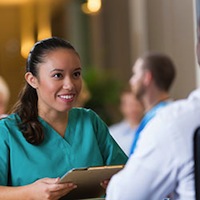 Every nurse wants to become better at what they do. There are many ways to advance in your career, but most of them begin with an advanced degree such as the online Master of Science in Nursing (MSN) from Benedictine University.
As a nurse, you're accustomed to taking care of others and going the extra mile to ensure the comfort and safety of your patients. It's an honorable profession, and one that continues to grow at a rapid pace. Nurses make up the largest workforce in the healthcare industry, leaving much room for advancement, as well as areas to increase critical knowledge and skills. Make sure you get the most out of your profession– check out these 10 ways to boost your nursing career to get a promotion.
1.

Always Have Good Intentions

As a nurse, having good intentions seems like it would be second nature. But with long shifts and little downtime, it's easy to get burnt out or feel overwhelmed – which can directly affect your intent. Always try to maintain an uplifting, positive attitude – your demeanor has a direct effect on your patients and can play a big part in climbing the ladder, especially if you seek an administrative position.
2.

Go with Your Gut

Intuition plays a big role in nursing, so always listen to yours. Know your limitations – rest when necessary, and don't work additional hours if there's even the slightest chance you won't be on top of your game. Think about your actions and how they fit into your big-picture strategy – your choices today affect your chances for a promotion in the future.
3.

Advance Your Knowledge

With more than three million members, nurses represent the largest segment of the U.S. health care workforce. The Institute of Medicine is striving to increase the number of nurses with bachelor's degrees from 50 percent to 80 percent by 2020 and double the number of nurses with a doctoral degree by 2020. Currently, 13 percent of nurses have a master's and only 1 percent hold a doctoral degree.
4.

Be Honest

Honesty is critical in the nursing profession. Do your best to uphold honesty at all times. When you make a mistake, own it. You are human and errors can and will happen, so maintain your integrity and work to rectify the issue.
5.

Be a Leader

Leading by example is one of the best ways to work your way up to an upper-management position. You likely work with nurses who are new or have less experience than you do, so make everything a teachable moment. Sharing your knowledge in a considerate way is the key to earning respect, as well as passing good habits on to the next generation of nurses.
6.

Respect Your Patients' Privacy

Keeping medical information private can be daunting, especially when the patient is dealing with a complicated diagnosis. Limit the amount of information you openly share – even in a clinical setting. Patients have the right to expect that their personal information is treated with the utmost respect and privacy.
7.

Represent Your Profession Well - In and Out of the Office

As a nurse, you take your profession with you everywhere you go. Always represent the profession well, whether you're working or out in the community. Consider lending your talents and skills to organizations in need – volunteer or join groups that could benefit from your knowledge. The more experience you have, the better you'll position yourself for a future promotion.
8.

Take Time for Yourself

Work/life balance is critical to your health and success as a nurse on the floor or in an administrative role. While saying "No" might be difficult, it's necessary to schedule time for yourself in an effort to combat stress and fatigue.
9.

Ask Questions

It's impossible to know everything, so never be afraid to ask questions. You owe it to yourself and to your patients, so if you're confused or need further clarification, simply ask. An inquisitive nurse is seen by management and peers as someone thirsty for knowledge, which is often a sign of a great leader.
10.

  Never Stop Learning

Stay current. Always look for ways to improve yourself and your industry knowledge, whether through education, volunteer opportunities, or organizing monthly meetings with colleagues. The nursing profession is fluid. New information and technology constantly changes the way you perform your job.

Discover how to advance your career with the online MSN from Benedictine University. Prospective students can visit online.ben.edu/programs/msn or call us at (866) 295 – 3104.