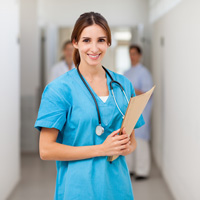 So you've found the right MSN program online, applied and were accepted. Now what do you do? If you haven't attended school in a while or you have no idea what a breadcrumb is (hint: it's not what Hansel and Gretel left behind in the woods) then I am sure you are quaking in your clogs and wondering, "what in the world was I thinking." No worries, the thought of pursuing an online MSN degree can seem quite daunting. Make no mistake, earning an online nursing degree is challenging. Scary or not, challenging is what you want in any learning environment. If it comes too easy then you aren't learning anything.
Make sure you are in a program or have found a program that will continue to challenge you. An online MSN program's focus should be student-centered learning instead of instructor directed learning. It should allow you to take an active role in your own learning experience. Most of all, the key is not to take a back seat to learning but for you to strive to be a life-long learner.
I am here to tell you that an online MSN program really is not as bad as it seems, you just need to have the wherewithal to understand how to use an online nursing program to your advantage. Here are some tips:
Flexibility. An online learning environment is conducive to any work schedule because you don't have to show up to a traditional class at a specific time. Take advantage of the fact that you can work anywhere at any time. However…
Don't procrastinate. Don't ignore deadlines; you want to manage your time wisely so set a schedule for yourself.
Use to-do lists. Prioritize assignments, schedule quiet time, plan your week, and break long projects into smaller parts to accomplish over time.
Read the syllabus. The answer is always there.
Online research tools. Use them! Familiarize yourself with the school's libraries and databases, which are valuable sources of scholarly information.
Don't be afraid of technology. Embrace it, understand its limitations. It is not smarter than you; you just need to take the time to understand it. But if you don't have time for that, place the school's help desk on speed dial they are always there to assist you.
Save, save, save. Always back up your work and save it in several places. Don't rely on an electronic system to auto-save for you. Instead of typing directly into the discussion boards, think about creating your work in a separate document then cut and paste into the discussion board. The worst thing is to spend an hour on an assignment and the system times out without saving your document.
Actively participate in discussion forums. Here is where you will have an opportunity to learn not just from the instructor but also from your peers. It also allows you to receive valuable feedback and other perspectives that you may not have thought of firsthand.
Ask questions. Don't be afraid to ask your instructor for clarification or to ask for help when you feel overwhelmed, you are not alone. The instructor cannot help you if they don't know you are struggling.
Collaboration and team solving. Connect with your classmates, use them as another resource. One's experience is a valuable learning tool. The student lounge (if this forum is available in your school's format) is a great way to connect and share ideas, information, and also just to vent; constructively. So remember to challenge yourself. Step outside of your comfort zone and accept the fact that you are now one-step closer to becoming an effective leader that can deliver quality patient care.
Are you interested in learning more about how Benedictines online MSN program can challenge you and help you grow within your nursing career? Click here to learn more or speak to a Program Manager.
About the Author
Dr. Jasmin Whitfield RN, MSN, MPH, DNP is an adjunct faculty member in the online MSN program at Benedictine University. Her extensive background includes progressive administrative roles in acute rehabilitation services and community health nursing. In addition, Dr. Whitfield is currently accountable for the oversight and organization of the Health Services Department at Sidwell Friends School's D.C. campus including but not limited to health and wellness promotion and outreach and developing and managing occupational health and safety education, policies, and programming for students and employees. To learn more about Dr. Jasmin Whitfield please visit our online nursing degree faculty section.