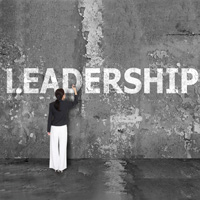 Leadership is a very popular topic. There are articles written, classes taken, and even entire degree programs devoted to it. Walk into any bookstore and you'll find volumes to choose from. Type the word leadership into Amazon's search function and you'll get over 100,000 results. Obviously, there is no shortage of perspectives and opinions on the subject.
If you read my previous series on leadership, you know that it is about influencing the performance of teams, groups, and organizations (Hogan & Kaiser, 2005). You also know that there are major differences between leadership and management. Leaders focus on visions, while managers focus on tasks. Leaders try to inspire dynamic change in those around them, while managers seek to maintain order and stability. Leaders motivate, while managers maintain control and focus on problem solving (Kotterman, 2006). You can be a leader without being a manager, and you can be a manager without being a leader. If you're doing it right, however, you are both.
One of the more interesting debates about leadership is whether the focus should be on the practical approaches or the theoretical constructs. Some people say that practical books like Jack Welch and the 4 E's of Leadership (Krames, 2005) or How to Become the CEO (Fox, 1998) are more important. They point to the real world applications, clear steps, and down to earth language. Others say that research based sources like Bardeh and Shaemi's discussion of servant leadership in Iran (2011), or Rupprecht et al.'s discussion of new ways to measure leadership (2013) are more important. The idea being that these articles' insights are grounded in established theory and are based on more than just one successful leader's advice. It is a fierce debate with both sides making valid points, but anyone who leans too far either way is flat out wrong.
The simple truth is that both perspectives need to be considered if we want to understand and apply leadership to make our organizations better. The practical discussions focus mostly on the what, and a little bit about the how and the why. The theoretical perspectives go into much more depth on the how, the why, and the how we know if there is really a measurable impact. If we really want to achieve our goals, we can't ignore either side of this dialogue. We have to be ready to embrace and converse about the what, while we drill down into the how and the why. While that isn't something that is always done, it will be the focus for this series. We will attempt to take a holistic and systemic perspective on leadership to try to get the full picture. The importance of that complete perspective is one of the first things I learned as a Benedictine student many years ago, and I hope I can pass that along here.
References
Bardeh, M., & Shaemi, A. (2011). Comparative study of servant leadership characteristics in management texts and Imam Ali's tradition (Case study: Najaf Abad Branch, Islamic Azad University, Isfahan, Iran). Interdisciplinary Journal Of Contemporary Research In Business, 3(2), 129-141.
Fox, J.J. (1998). How to become the CEO: The rules for rising to the top of any organization. New York, NY: Hyperion.
Hogan, R., & Kaiser, R. B. (2005). What we know about leadership. Review of General Psychology, 9(2), 169–180.
Kotterman, J. (2006). Leadership versus management: What's the difference? The Journal for Quality & Participation, 29(2), 13–17.
Krames, J. (2005). Jack Welch and the 4 e's of leadership: How to put GE's leadership formula to work in your organization. New York, NY: McGraw-Hill.
Related Benedictine Programs
If you're interested in learning more about what it takes to be a good leader check out Benedictine's Management and Organizational Behavior program, which focuses on addressing the human side of business including leadership strategies and skills.
Benedictine University also offers Bachelors degree programs. To learn how an online degree from Benedictine can help you hone your leadership skills talk to a Program Manager today.
About the Author
Jimmy Brown, Ph.D. is a senior level management consultant with seventeen years of experience leading efforts to develop and implement practical strategies for business performance improvement. Dr. Brown has held senior level consulting positions at leading firms such as Booz-Allen & Hamilton, Accenture, and Hewlett-Packard.
He can be reached at www.jimmybrownphd.com or via Twitter @jimmybrownphd