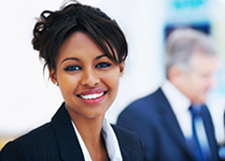 Did you know that from January 3rd to the 9th we celebrate "Women Self-Empowerment Week?" So what are we waiting for? Proceed at full speed. It is already midnight…
It is the New Year. Look good. Feel good. Acquire a new outlook! Freshen up your comfort zone or break out altogether from status quo. Because around this time we usually make resolutions, rearrange goals slightly, or maybe postpone or cancel changes we might have decided upon the year before, claiming that they are passé. There are plenty of projects out there we can choose from. However, very often we talk about change and yet we dread passing up the familiar!
We wish each other "Happy New Year!" So let us talk about what is new for you in the New Year? Is it a new hair color or a hairdo; a new job; a new couch; a new responsibility; New You? Hurray! New You sounds great!
Now we are talking. You might have been pondering about getting out of a rut of a job with no advancement in sight. But you hang in there for the "reality check"…So hang in there just a bit longer…Because there is a plan wide open in front of you. While you are checking out Benedictine University's Blog, read about the MSL degree for women in leadership. An online degree that can guarantee a new you; or offline and in the classroom on weekends; choose your style…There is one that fits.
Let us face it, if women had a more positive influence in the world, things would improve for all. So join other females who have started their journey of betterment of one's self, and in the process, help others to succeed. You are not alone and together we can achieve.
Hence the first step of taking the lead is in leading your life out of the comfort zone. And the changing agent is at hand; it is the MSL, the leadership degree. It is like a passport. It will take you to high places.
Be one of the accomplished women in leadership roles. For women in leadership roles are not a novelty. They have always been around. They are not rare. They are in every corner. Just turn the lights on, check your mirror. And realize it is you, me, us, and them. All of us! We need more of us simply because there is strength in numbers.
Related Benedictine Programs
If you are interested in learning more about leadership and how to advance your career by focusing on the human side of business, we encourage you to check out our Master of Science in Management and Organizational Behavior Degree or talk to a Program Manager today.
About the Author
Ms. Olfat El-Mallakh teaches World Religions at College of DuPage, and "The Endowment of Religions for Female Leadership", she designed the course and wrote the manuscript for the textbook; at Benedictine University, USA. She is a Coptic Orthodox Christian, originally from Egypt, she began publishing poetry and short stories at age 15. For eight years she produced an educational television show for NCTV, aimed for children and their parents, called 'Training Your Parents." She was the poet in residence for "Midday with Sondra Gaer," on public radio. She has degrees in French Literature, Art History, and Theology and Church History. She is interested in people and their art and culture. She is on the Women Advisory Council, "Women Institute for Global Leadership, Benedictine University, Naperville, IL 2008 to present. She is on the Advisory Council of EAD Egyptians Abroad for Development, Chicago, IL 2012 to present. A Fellow at the Newberry Library 2012; edited a book: Introduction to Islam, in 1989. Olfat is an avid reader and a world traveler.