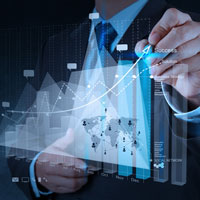 We have pretty clearly established that culture and performance are entirely intertwined. Having the right culture makes it much more likely that you will have a high performance organization. Having the wrong culture will make performance all but impossible. The question that must be asked, however, is how do we go about developing a culture that drives performance?
While there is no shortage of books and articles that attempt to answer that question, most of them just give an example of what was done in one particular organization. The problem with this modality is that what works in one organization may not necessarily work in another. So unless you have an organization extremely similar to the one you are reading about, figuring out how to apply that knowledge to your organization may be quite problematic.
One approach that I've had success with is a methodology called the Performance Strategy. Figure 1 provides a high level conceptualization of this approach.


Figure 1: Performance Strategy
A key assumption of the Performance Strategy is that in every organization, we have some people who perform better than others. It doesn't matter if our organization is an industry leader, or perpetually on the verge of bankruptcy, some folks just do their jobs better than the rest. Another key assumption of the Performance Strategy is that these high performers contribute more valuable outcomes to the organization's overall success. The third key assumption is that anyone can perform like a top performer.
While some organizations have cultures that frown upon pointing out the differences between employees, or treating high and low performers differently, the simple truth is these differences exist in every organization. Once we get past these egalitarian ideals, we are then free to pursue the four steps described in Figure 1:
Defining Business Objectives is about identifying what performance outcomes matter for your particular organization
Documenting Current Processes is where we capture the information about what procedures and behaviors are intended to drive those critical outcomes (e.g., SIPOC process mapping and documentation)
Collecting Data from Top Performers is where we look at the habits of top performers that are different than the rest of the organization. We do this because we want the rest of the of the organization to adopt the same habits
Developing a Performance Strategy is where we define actionable human capital strategies to embed this new culture in the organization. This can include everything from training to hiring new people, to rewarding the desired behaviors we need
Here's the fun thing about this approach – top performers love being celebrated for their success and often work harder as a result. Even if the rest of the team doesn't necessarily want to work harder, they usually do want to perform better. If we understand what the top performers are doing that makes them top performer, we can then teach others those same habits. If our whole organization has similar habits to our top performers, we develop a performance-centric culture. With a performance-centric culture, performance will simply happen.
Related Benedictine Programs
If you are interested in learning more about creating a strong culture, check out Benedictine's Management and Organizational Behavior program, which offers courses on Organizational Culture, Strategic Management and Organizational Behavior. Benedictine University also offers online Bachelor's degrees. To learn how an online degree from Benedictine can help you hone your leadership skills talk to a Program Manager today.
About the Author
Jimmy Brown, Ph.D. is a senior level management consultant with eighteen years of experience leading efforts to develop and implement practical strategies for business performance improvement. Dr. Brown has held senior level consulting positions at leading firms such as Booz-Allen & Hamilton, Accenture and Hewlett-Packard.
He can be reached at www.jimmybrownphd.com or via Twitter @jimmybrownphd