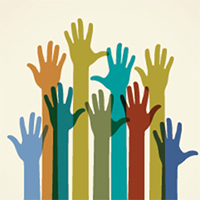 Ah…….. I sit back in my chair at work, hit the print button on my computer and wait for my "certificate of completion." Another year of successful online diversity training has been achieved! Each year diversity at my workplace is required reading. Each year I close my office door and carve out a bit of undisturbed time to review the topic. I do not simply skip through each slide quickly. After all there are is a quiz at the end and I want a perfect score! At many corporations, public and private, diversity training has become a requirement. But just what is diversity and why is it important for current and future leaders to not only know but embrace? Simply defined, diversity in the workplace allows individuals of different races, genders, ages, ethnicities and backgrounds to co-exist. To further define diversity in the workplace is an enabler to providing unique perspectives and experiences delivering innovative ideas and eliminating the risk of groupthink. Think of the potential power diversity brings to the table.
All of you have experienced diversity whether in your undergraduate and/or graduate studies. The use of team assignments is a great practice field for future leaders. Using each participant's unique perspective on a business problem formulates a better solution. But mastering the use of this tool is not simple. The realization that we all have differences is a fundamental building block in the effective utilization of diversity to drive results. I believe to fully utilize diversity as a competitive advantage all participants must practice and master tolerance. Tolerance is the ability to remove oneself from his or her comfort zone of thoughts and ideas to an area of discomfort and unknowing. In this regard each participant assumes the dual role of teacher and student. As I shared in a previous article, each participant has something to teach others - unique thoughts and if correctly applied a very powerful tool.
In the United States we have the opportunity to use diversity to our advantage. In fact as others have shared, diversity is a key driver to our economic prosperity. It is because of diversity we are able to challenge current standards and create a new paradigm using the uniqueness diversity in the workplace offers. If you expand the concept of diversity to the global arena you can also see the impact it carries on the globalization of products and markets. My world's "touch points" are global in nature. I have the honor and privilege of working with a very diverse group domestically as well as internationally. Better solutions are derived using diverse thoughts as the raw material. Bias and pre-conceived notions are the poison of using diversity in the workplace. Eliminating both will allow diverse thoughts and opinions to be explored and reviewed.
In conclusion, effectively using diversity as a competitive tool is an advanced concept, hard to deploy and even harder to master. This will require future business leaders with the foresight to nurture diversity in their circle of influence. Universities such as Benedictine enable diverse thought not only in the classroom but in everything from honoring various religious holidays to offering exploration of other cultures in a seminar setting. What better way to learn the true meaning of diversity!
Related Benedictine Programs
If you're interested in learning more about creating diversity in your company check out Benedictine's Management and Organizational Behavior program, which includes courses such as Team Building, Organizational Culture, Organizational Development and Organizational Behavior. Benedictine University also offers Bachelors degree programs. To learn how an online degree from Benedictine can help you hone your leadership skills talk to a Program Manager today.
About the Author
Pete Papantos is an operations director at a Fortune 500 company. He is responsible for the global execution of their strategic plan and driving operational excellence using lean methods. In addition, Pete is a graduate instructor with emphasis in operations and strategic management — both in traditional and online settings.