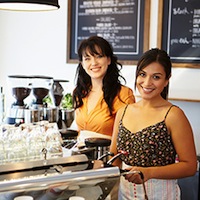 A couple of weeks ago I took my family to the Washington, DC area to visit some in-laws and old friends. There were many highlights of that trip (including getting to watch the Nationals win), but as a behavioral scientist, one of the things that sticks with me was our visit to Wegmans. For those not familiar with Wegmans, it is a grocery store chain along the east coast with amazingly loyal customers. Wegmans provides the high quality organic foods, plus "regular" products (e.g., Coca-Cola and potato chips), with a staff that is both friendly and knowledgeable. I remember hearing about Wegmans for years before my first visit and wondering what all the fuss was about, but I quickly figured it out.
Of course I'm not the only one who has noticed. A couple years ago the Atlantic posted an article about Wegmans and how the secret of their success is focusing on their people (Rohde, 2012). The crux of that article was Wegmans' belief that as a result of having a happy well trained workforce, the customer has a better experience. Wegmans takes this so seriously that employees are not even allowed to talk to customers until after they have 40+ hours of training. They also make a point to share the benefits of the good works with the employees. In other words, they create a culture where the employees are focused on the customer. This focus translates into better profits for the brand.
Recognizing that all this seems like it would be kind of obvious, we have to wonder why more organizations don't understand that creating a culture that focuses on customer experience is the best way to build a brand? Could it be they don't know how? Could it be the concept is new? Could it be they just don't like profits?
I'm pretty sure any business likes profits, so clearly that last one is out. I am also confident that this is not a new idea as Jonathan Baskin has been beating this drum since at least 2008, and Bligh and Turk have been taking this position since 2004. A quick buzz through the bibliographies of either text shows that this discussion has been going on for much much longer. That being the case, maybe these companies just don't know how?
Knowing how to create a customer focused culture is not easy. Not only does it require time and investment, but it requires attention to the oxymoronicly named 'soft' skills that as we all know are the hardest to develop. To make matters worse, you have to figure out where to invest those development efforts so as to get the most bang for the buck. Sadly, so many of these efforts have failed to deliver that many organizations are hesitant to risk the investment.
So how does an organization maximize their culture investments so that they can see results like Wegmans? For starters they don't just worry about industry standards or flavor of the week training programs. They should take a long hard look at their strategy, their customers, and what their employees currently take for granted (i.e., their culture). They must then define the culture they want and create processes to make that vision a reality. The hard part is sticking to the plan for the long term so that those attitude and actions become habit. It may not be easy, there may be bumps in the road, and it may take longer than quarterly focused managers would like. If you can stick to it, however, it is more than worth it. At least it seems to be for Wegmans.
References
Baskin, J.S. (2008). Branding only works on cattle: The new way to get known (and drive your competitors crazy). New York: NY. Business Plus
Bligh, P. & Turk, D. (2004). CRM unplugged: Releasing CRM's strategic value. Hoboken: NJ. John Wiley & Sons, Inc.
Rohde, D. (2012). The anti-Walmart: The secret sauce of Wegmans is its People. The Atlantic. Retrieved from: http://www.theatlantic.com/business/archive/2012/03/the-anti-walmart-the-secret-sauce-of-wegmans-is-people/254994/
Related Benedictine Programs
If you are interested in learning more about creating a strong culture, check out Benedictine's Management and Organizational Behavior program, which offers courses on Organizational Culture, Strategic Management and Strategy, and Organizational Behavior. Benedictine University also offers online Bachelor's degrees. To learn how an online degree from Benedictine can help you hone your leadership skills talk to a Program Manager today.
About the Author
Jimmy Brown, Ph.D. is a senior level management consultant with eighteen years of experience leading efforts to develop and implement practical strategies for business performance improvement. Dr. Brown has held senior level consulting positions at leading firms such as Booz-Allen & Hamilton, Accenture and Hewlett-Packard.
He can be reached at www.jimmybrownphd.com or via Twitter @jimmybrownphd