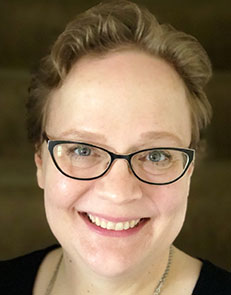 Elizabeth "Beth" Squires earned her Bachelor of Science degree in Community Health/Health Administration in 1994 and her Master of Public Health with a specialization in Health Promotion in 2003, both from Northern Illinois University (NIU). Her professional experience has included work in a hospital-based fitness center as an office coordinator, in a social service agency assisting developmentally disabled adults and in a public health department in the epidemiology unit assisting with surveillance, program evaluation and report writing.
Squires also has extensive experience in higher education. From 2005 to 2008, she was the Undergraduate Advisor/Practicum Coordinator for the Public Health Program at NIU, where she advised junior and senior public health majors and oversaw students while they completed their required public health internship. She also taught several different undergraduate courses in public health, including Epidemiology, Environmental Health, Community Health Planning, and the Organization of Public Health and Health Care Systems in the United States. From 2008 to 2011, she was the Director of Administrative Services for Lewis University's School for Professional and Continuing Education, which houses the adult accelerated programs.
From 2007 to 2011, Squires taught part-time for the online M.P.H. program at Benedictine University. In September 2011, she became a full-time faculty member for the Master of Public Health program in the College of Education and Health Services at the Lisle campus.
She is a member of the Society for Public Health Education (SOPHE), the Illinois Chapter of the Society for Public Health Education (ISOPHE), the Illinois Public Health Association (IPHA) and two honor societies: The Alpha Eta Honor Society at NIU and Sigma Beta Delta at Benedictine University. She received the Students' Choice Award from Northern Illinois University's Student Association in May 2006. In April 2012, she received certification as a Certified Health Education Specialist (CHES) from the National Commission for Health Education Credentialing.