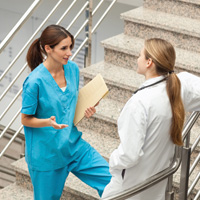 Most nurses – if not all – would say good communication with patients is a critical component of overall care. The TEDxLongwood Talk presentation "On Being Present, Not Perfect,' by Elaine C. Meyer, PhD, RN, co-founder and director, Institute for Professionalism & Ethical Practice, Boston Children's Hospital, and associate professor of psychology, department of psychiatry, Harvard Medical School, helps health care professionals build better communication skills.*
Meyer draws on her personal and professional experiences to demonstrate the gaps in health care communication, and how to close those gaps. Meyer spoke about the defining moment in her life when she was a nursing student. She was listening to a mother's worries, hopes and dreams for her hospitalized son and learned some very important lessons. "First, I learned how important it is for patients and families to tell their stories, to be listened to and to be known," said Meyer. "I wasn't sure I was the best person to be holding this conversation ... but I was called upon that day. I learned that [on] that day I was called upon to be present, not perfect."
Meyer's goal is to help "foster health care conversations across what people feel is a divide, where we feel we have to be perfect; to help healthcare practitioners feel more capable and confident in these conversations." Many communication programs focus on delivering bad news, however, Meyer is particularly interested in moving beyond those first conversations to those that occur over time. Meyer feels these conversations are positive for patients and their families, and hold great potential for a nurse's sense of professional fulfillment and pride.
Be Present, Not Perfect
Meyer says there are many ways healthcare professionals can "be present, not perfect." As a nurse and clinical psychologist, Meyer learned it "isn't the medications, surgeries or treatments [patients and families] remember. What they really remember is the words that we say to them, the kindness we extend, how we made them feel and the way we treated them. That's what stays with them." She referred to the "other half of the medical equation or the emotional standard of care, where practice makes better." Ways health care professionals can be present include:
Introduce yourself in a professional manner.
Truly listen. Give your full attention to patients.
Limit technical jargon when explaining diagnoses and devising treatment plans.
Provide opportunities for patients and their families to share their concerns.
Don't interrupt patients and their families and allow moments of silence.
Show empathy through words, gestures of kindness and caring.
Remember that you are part of a team.
Meyer encourages participants to be present in conversations by:
Thorough preparation.
Setting the patient at ease.
Finding out what the patient and family know and what is most important to them.
Remembering to have a mutual agenda that meets the needs and priorities of the patient and family, as well as the healthcare team.
Being honest, kind and direct.
Using pictures to teach and explain.
Pausing occasionally to check the patient's understanding and asking if there might be any questions or issues of concern.
Summarizing the conversation and letting the patient and family know what to expect next.
The Wizard of Oz Meets Patient Care
Meyer used a Wizard of Oz metaphor to highlight the necessary components of communication: courage, brains and heart:
The lion's courage reminds health care professionals to never underestimate the power of their courage, their leadership and their willingness to "go there" with a patient, a loved one.
With the scarecrow's brains, practitioners seek to use their knowledge, their clinical wisdom, their experience so they can explain diagnoses and plan treatments in ways that patients understand and include patients as partners, in ways that don't scare or frighten the patient. Our word choice is critical.
The tinman seeking a heart reminds healthcare professionals of the kindness they extend every day, the compassion and the mercy they show people, especially those who are hurting, suffering or ill.
In closing, Meyer offered words of wisdom: "Dig deep and find your inspiration ... Once upon a time, you wanted to change the world. And you still can. One conversation at a time."
A Master of Science in Nursing (MSN) program can help you prepare for advance practice nursing and can improve your skillset including your ability to communicate efficiently and effectively. The online MSN degree at Benedictine University does just that in a convenient and flexible 100 percent online format. Visit us at online.ben.edu/msn or call us today at (866) 295-3104 to learn more.
References
http://news.nurse.com/article/20141024/NATIONAL06/141024001#.VNyslbDF9Y8