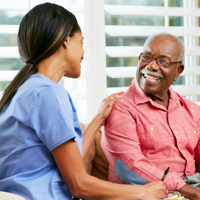 There is an adage that says we were given two ears and one mouth so that we may listen twice as much as we speak. For Richard Gilbert, Ph.D., professor of Public Health Ethics and Policy for Benedictine University's online Masters in Public Health (MPH), it is a truism that has set the tone for his success as a minister, hospital chaplain, health care leader, author and educator.
Before he joined the faculty at Benedictine University five years ago, Gilbert followed his spirit, developing ethics policies and committees for health care institutions, working with institutional review boards and writing several books on bereavement. He has focused his work on trauma leadership and developing continuing education programs for clergy and religious leaders. He has also served on several hospital boards and devoted more than 30 years to various forms of ministry. Many of those years were spent as a hospital chaplain working shoulder to shoulder with doctors and nurses, actively listening to and caring for them and their patients.
Thirty-plus years attending to care-givers, administrators and patients has given Gilbert a profound understanding of public health and taught him valuable lessons on how to improve it. "A lot of it comes down to listening," Gilbert said. "As a professional group, we don't always do that anymore. We're in such a rush that we forget to listen and it's something we need to get back to. Instead of trying to write a new story for a patient, like coming up with a new diagnosis, we need to understand that there might be an existing story that we haven't heard yet."
Something you'll notice right away about  Gilbert is his penchant for listening and telling a meaningful story. "Back in Iowa, I was called to the intensive care unit for a woman who was in need of emergency surgery, but she wouldn't sign the surgery consent form,"  Gilbert recalled. "It was an intense situation. The doctor told me that if she didn't get the procedure soon, she'd likely die. I went to her bedside, calmly listened, and learned that she was worried her husband, who was very absent-minded, wouldn't know where to find her. After assuring her that I would personally help her husband find her recovery room, she agreed to the surgery and got the treatment she needed."
While it seems obvious in health care settings that you must listen to those who need you, doing so without ethical bias can be the most challenging part. An important lesson Gilbert teaches his students is that public health is neutral ground and should be absent of personal agendas. Ethics are less about right and wrong, and more about helping people get in touch with their own values.
"You may or may not agree with someone's view, but you must be prepared for all possible solutions; to listen to more than one voice," he explained. "I help my students understand that everyone has their own ethical standpoint, but that doesn't mean you should impose it on your patients or the workplace. You need to explore what you're called to do, and that is to bring your gifts to someone who's coming to the health department."
"When you look at stories in the scripture, most of the time Jesus healed, he met these people in their story," Gilbert added. "He came upon them and nurtured them regardless of their backgrounds or beliefs."
Gilbert cultivates these important discussions with his online students through his lectures, message boards, Skype and emails. To him, Benedictine University is offering students something more than what they'll find in other online college programs. "My students always have a way to get in touch with me when they need input, to ask a question, or just talk," he said. "The online format is so adaptable, and in the program, we really make them think. We have the best educational materials and our professors all have something unique and important to contribute to this field."
Gilbert's students come from a variety of different professional backgrounds in health care. Registered nurses, physicians, therapists, researchers, health educators, lab technicians, operations managers, microbiologists and more all benefit from the curriculum he helped develop. Coursework is designed with his students' personal and professional obligations in mind, allowing them the flexibility to study online according to their schedule. Graduates gain the skills necessary to excel in a wide range of clinical applications that support efforts to achieve optimum health care equity, quality and accessibility.
The open environment Gilbert creates for his online classroom also attracts students from a wide spectrum of cultures and religions. Understanding multiculturalism and respecting the perspectives of others are paramount to his teachings of Policy and Ethics in Public Health. The openness can be liberating, "…especially for students who have had a strong cultural, parental or religious influence that has been disquieting for them," Gilbert explained. "They feel they finally have someone listening to them. They learn that even if they're unhappy about treatment practices, or the way things are done, it doesn't mean they shouldn't discuss it. Here, they have the freedom to do that."
To learn more about Gilbert's online course in Policy and Ethics in Public Health or the online Masters in Public Health program, speak to a Program Manager at (866) 295-3104, or request more information online.