A Historical Reflection of National Nurses Week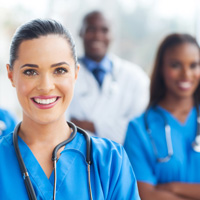 History has provided us with many examples of nurses' contributions to our communities. But, what sets us apart as a nationally recognized profession? Choose one word that best describes nursing's professional standards or our contributions to patient care. Difficult to narrow it down to one word isn't it? I chose advocacy. As the celebration nears, I wondered, "has nursing met or exceeded the standard set by those before me?" This led me to reflect upon the life of Florence Nightingale and whether we have met the standards that she sought for.
Now I know some of you may be thinking why I chose Florence Nightingale as a historical reflection during Nurses Week, especially in regard to advocacy. Well I can tell you that it wasn't because her birthday is the last day of this national celebration. Oh come now, you must remember the stories in nursing school about Florence Nightingale and her lamp in those dark hallways of the sick bay caring for wounded soldiers. If not, I am here to remind you of her stoicism and significant impact on nursing today. As we celebrate National Nurses Week, we must remember Nightingale's advocacy and commitment to her patients. Many criticized her. There was a false belief that she emphasized subservience to physicians or focused more on the physical factors than on psychological factors.¹ There are many periods within Nightingale's life story that would contradict these beliefs. In fact, Nightingale understood very well the psychological connection to healing and actually believed that nurses should always speak up when things were unacceptable or inadequate.²
Nightingale was a change agent in her own right and seemed to be able to do so without compromise; leadership techniques and advocacy were many of her strong points. She used it to her advantage in her tireless work with policy change in regard to human rights. As a superintendent for the Hospital for Gentlewomen in Distressed Circumstances, where at one point only members of the Church of England were allowed to be admitted, she was able to change policy making it possible for all faiths (or no faith) to be equally admitted to the hospital. As an advanced degree nurse, it is important for me to be effective in my role as a leader and educator in order to provide our students with the tools necessary to promote health. My hope is that our students will in turn continue to meet the needs of their patient's without compromising their own values and beliefs. Benedictine's online MSN Program prepares nurses to be effective leaders who will more than likely have the ability to advocate by emphasizing interprofessional collaboration, evidence-based practice, and most importantly providing opportunities to apply the knowledge and skills learned into practice.
Has the nursing profession lived up to Nightingale's philosophy of nursing? Is it still a profession that is both an art and science, collaborative with all other health care professions, autonomous yet defined by scope of practice, grounded in science where statistics provide the basis for logic and support arguments, "not limited by gender, spiritual beliefs, or values" and where we are allowed to maximize our potential? Undeniably! Nightingale's philosophy of nursing practice still rings loud and clear today and will most likely continue to influence nursing and healthcare alike. It seems to me that she would want nothing more than for us to enhance and build on her theory, thereby honoring the nursing profession, and exceeding the mark of her philosophical legacy.
References
1 Selanders, L. C. and Crane, P.C. The Voice of Florence Nightingale on Advocacy. The Online Journal of Issues in Nursing. Accessed April 22, 2013. http://www.nursingworld.org/MainMenuCategories/ANAMarketplace/ANAPeriodicals/OJIN/TableofContents/Vol-17-2012/No1-Jan-2012/Florence-Nightingale-on-Advocacy.html
2 Stringer, Heather. "Principles for a New Philosophy". Accessed April 22, 2013. http://news.nurse.com/apps/pbcs.dll/article?AID=2011110623002
About the Author
Dr. Jasmin Whitfield RN, MSN, MPH, DNP is an adjunct faculty member in the online MSN program at Benedictine University. Her extensive background includes progressive administrative roles in acute rehabilitation services and community health nursing. In addition, Dr. Whitfield is currently accountable for the oversight and organization of the Health Services Department at Sidwell Friends School's D.C. campus including but not limited to health and wellness promotion and outreach and developing and managing occupational health and safety education, policies, and programming for students and employees. To learn more about Dr. Jasmin Whitfield please visit our online nursing degree faculty section.