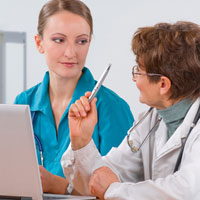 You have completed a bachelor's program in nursing, currently work in the field and are now ready to take the next step in your career. If you are considering becoming a certified nursing administrator, here is what you need to know.
What is a Nursing Administrator?
A certified nursing administrator oversees a staff of nurses in a health care environment. To obtain this position, you must typically have a master's degree, relevant work experience and a nursing license, and often, advanced certification as well. Communication, leadership and business skills are also essential to succeed in this role. Nurse administrators can have rewarding and lucrative careers. The Bureau of Labor Statistics includes nurse administrators in the category of "Medical and Health Services Manager" for which the median annual salary is $88,580.
How Can You Qualify to be a Nursing Administrator?
Most employers require a master's degree in nursing or health services administration. The degree requirements may vary depending on whether you work in a nursing home environment, hospital, clinic or long-term care center, but consider the steps below as you map out your path to secure a job in any of these environments.
1.) You must achieve the minimum education requirement.
Many employers require a Master of Science in Nursing (MSN) to become a nursing administrator. To earn a master's degree in nursing, students should be aware that:
The program generally takes two years to complete.
Course requirements can include management, communication, current nursing practices and leadership development.
Some programs may simultaneously prepare students for advanced certification exams.
It's also advisable that students attend a school listed in the Accredited Institutions of Postsecondary Education directory to ensure it meets all accreditation standards.
There are a few exceptions to the educational requirements. For instance, an exception might be made for those with recent field experience that might substitute for some of the educational requirements.
2.) You must maintain nursing licensure.
Education is not the only factor when considering a career in nursing administration. To work as a nurse administrator, you must be licensed.
Licensure qualifications differ by state and may include:
Age requirements
Character assessments by the Board of Examiners of Nursing Home Administrators
Enrollment at an administrator-in-training program or a qualifying experience
A board-approved internship or qualifying alternative
Field experience
3.) You should consider partaking in advanced certification exams.
Credentials can make a difference when interviewing for nursing administration roles. The American Nurses Credential Center (ANCC) offers two exams: The Nurse Executive exam and Nurse Executive, Advanced exam. In addition to earning a passing score on these exams, the ANCC may also require two years of experience in mid-level administration experience.
If you do not pursue a master's degree, 30 hours of continuing education credits will be required. These credits can be obtained through graduate coursework. You may also be required to enroll in state board-approved continuing education programs.
To help candidates meet pre-exam requirements, some states offer board-approved home study courses as well.
4.) The more credentials you have, the greater the employment opportunities.
Once certified, employment possibilities may increase significantly. The aforementioned ANCC and the American Organization of Nurse Executives (AONE) both provide certification credentials. These include Certified in Executive Nursing Practice (CENP) and Certified Nurse Manager and Leader (CNML).
If you are interested in becoming a certified nursing administrator, Benedictine University Online offers a fully online MSN. The program academically prepares students to sit for advanced certification exams and can be completed in as little as two years. Students also have the option of broadening their expertise to include business courses in the online dual MSN/MBA.
Want to learn more about becoming a nurse administrator? Check out the "What Skills are in Demand for Nurse Administrators" free guide.