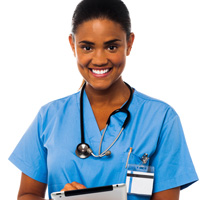 The nursing shortage in our nation cannot be addressed without realizing the importance and need for highly skilled and qualified nurse educators. People are living longer and the increase in the population older than age 65 will put a strain on all aspects of health care. Great educators who promote competence, commitment and compassion are needed to help the next generation become highly skilled nurses – strengthening and sustaining our health care system's needs for the ever growing demand. Nursing is a practice that requires constant education of patients, family members, others and ourselves.
Nurse educators are given the opportunity to fortify their nursing knowledge, and are also provided the ability to foster and grow their teaching potential.
The Nurse Educator Role
A registered nurse can become a nurse educator by obtaining an advanced degree with an emphasis on education. They typically have strong backgrounds in clinical nursing, but have dedicated their careers to the teaching and training of the next generation of nurse professionals. Although most nurse educators help to prepare new nurses in a higher education setting as faculty, there are many different opportunities for a master's prepared nurse.
Nurse educators express a high degree of satisfaction with their work. Mentoring students and assisting them in gaining confidence and skills are particularly rewarding aspects of their jobs.
Other benefits of becoming a nurse educator include access to cutting-edge knowledge, along with opportunities to conduct research, publish articles in professional journals, speak at nursing conferences, serve as consultants to education and health care institutions, write grant proposals, shape public policy and participate in community service.
Benedictine University offers its online Master of Science in Nursing (MSN) program to prepare registered nurses to become ethical leaders and effective health educators in today's complex health care industry.
Nursing Shortage Impact
The nursing shortage has impacted the demand for additional and new nursing roles. A variety of factors have gone into this shortage and as it continues to escalate, a greater demand for nurse educators has resulted in today's health care environment.
The Bureau of Labor Statistics provides a list of the top 30 occupations projected to have the highest employment growth between 2010 and 2020. Nursing positions rank at the top of this list.
According to the American Association of Colleges of Nursing, the median age of nurses today is 46 and more than 50 percent of the nursing workforce is close to retirement. As nurses near retirement, nurse educators will be the key to preparing aspiring nurses to replenish the nursing field with qualified individuals.
In response to the number of nurses reaching the age of retirement, The U.S. Department of Labor also reports that 1 million new and replacement nurses will be needed by 2016.
With the amount of nurses approaching retirement, there are a variety of concerns that there will not be enough nursing professionals to fill this void. Demographic changes and the aging population are expected to become more serious as nursing demands grow drastically. Individual's lifespans are increasing and require more attention to long-term care. Nurses in these roles are sought after for guidance and education to prepare seniors for long-term home care and educate future nurses who will be the care providers.
Nurses who administer care require education from qualified and well-educated nursing professionals who typically do not begin teaching until after the age of 50. These educated nurses are also retiring earlier than they have historically, leaving a shortage of nurse educators in America's classrooms. Existing educators find themselves teaching larger classrooms with more students than in previous years.
Currently, the U.S. health care system is undergoing drastic change with health care reform that makes services available to millions – who were once uninsured – causing an increased amount of patients that require care from qualified nurses. Without nurse educators, these nurses are not able to learn the skills and techniques needed to respond to such demand.
Job Opportunities for the Nurse Educator
According to Forbes magazine, nurse educators are in particular demand, not just in schools but in jobs with companies that release new medical devices onto the market and need to train people to use them. At staffing outfits that serve those companies, different opportunities for the nurse educator have enjoyed enormous growth and expanded beyond just the classroom setting.
Paul Forster, chief executive of Indeed.com, a search engine for jobs, says that listings on his website for nurse educator jobs, also sometimes identified as "medical equipment educator," have increased by 50 percent in the last 12 months. There are now more than 1,000 positions posted on Indeed.com.
The role of Nurse Educator is vital to the success and growth of the nursing profession. A highly qualified, master-trained Nurse Educator helps to create skilled, intelligent and compassionate nurses who will create a safe and effective health care environment. The Nurse Educator role has expanded to different areas beyond faculty setting, including medical equipment training, patient education, disease prevention and many other areas that are possible with training in MSN Education.
Expanding one's nursing career to become a nurse educator is made easier with the Benedictine University online MSN degree program with the Nurse Educator concentration.
Related Benedictine Programs
Benedictine University has offered quality, cutting edge programs to aspiring and working nurses for more than 25 years. With accreditation from the Commission on Collegiate Nursing Education, the University prepares students for health care of the 21st century. Build on your expertise and impact the future generation of nurses. Visit the Benedictine University website to learn more about the Online MSN degree program.