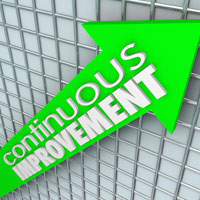 In today's business climate Continuous Improvement is a vital ingredient to a business' success. Striving to do things better, faster and less expensive in order to remain ahead of global competitors is required "standard work."
Continuous improvement is realized by applying theory to solve problems in a real life setting. Methods vary but sound decision making uses facts over opinions. Transforming the current state into a future state with less waste is the expected outcome. Learning is realized and used as the input for future continuous improvements. So how does a business adopt continuous improvement in everything they do?
Risk taking and learning from failure may be one obvious answer. We all know there will be a time in our careers where we will make poor decisions. Failure is a byproduct of not making the right decision. The key to success is knowing how to mitigate risk and realize continuous improvement in decision making. So can continuous improvement be as simple as trial and error? I do not believe it is that easy. So what is the answer?
Education is the answer. Deming referred to it as Theory of Knowledge, a subpart of Profound Knowledge. Experience is an important teacher but without theory there cannot be sound decision making. Theory is a predecessor to experience. As I share with my Master of Business Administration (MBA) students, critical fundamentals such as using the scientific method to help solve problems must be studied before put into practice. After all, before you can fly a plane do you not become well versed with the fundamentals using training manuals and possibly seeking help from subject matter experts (SME)?
Use of the classroom as a "playground" to learn is an excellent method to test theory and predict outcomes. Instructors will assume the role of coach or mentor and serve as experts in their respective fields. By experimenting in a classroom setting students are able to use scenarios to hone their decision making skills and prepare them for the real world.
Continuous improvement has no finish line. Business conditions are constantly changing. New challenges quickly replace old solutions. Continuing to look within and outside your organization for improvements is a necessity to remain competitive. Using the theoretical "tool box" learned from pursuing your MBA will better equip you to drive continuous improvements in everything you do.
Want to learn more about how you can apply continuous improvement to your workplace?
Check out Benedictine's online MBA program. With seven concentrations from which to choose, students are able to tailor the degree to meet their specific career needs. And, the program is available in a convenient one year accelerated format as well! Learn more at online.ben.edu or call us at (866) 295-3104.
About the Author
Pete Papantos is an operations director at a Fortune 500 company. He is responsible for the global execution of their strategic plan and driving operational excellence using lean methods. In addition, Pete is a graduate instructor with emphasis in operations and strategic management — both in traditional and online settings.