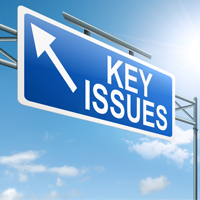 Budgets for this year have been formulated and strategic expectations have been published throughout many organizations. Whether a firm is public or private these are the key issues facing firms in 2016 and beyond. Current and future MBA students should become knowledgeable in these challenges. The end result will be to gain competitive advantage in the marketplace.
1. Employee Engagement
Employee engagement extends beyond the traditional model of employee participation in the business. Instead it extends the employees reach into business ownership. How the employee perceives their employer is a vital link in the success of the firm. Products take the firm only so far. How the business culture is structured will enable the firm to effectively communicate to customers. Engaged employees are proven to better manage the operation including service recovery when things do not go right (think Southwest Airlines). Creating employee engagement is harder than it seems. The firm must be committed to the employee to include training and development. Firms with higher levels of employee engagement have a lower rate of turn over. With the impending shortage of skilled workers in certain industries the need to insure employees are engaged should be a primary strategic objective.
2. Proprietary and Confidential Communication
Intellectual property comes in many forms. It is simply not restricted to patents but also includes proprietary communications and sharing between employees. Multinational firms appreciate the need for their global communities to communicate freely and effectively. Building and monitoring the infrastructure to include IT protocols is necessary to prevent cyber-attacks. Keeping information proprietary reaches each and every associate. This includes how to effectively manage and destroy documents whether physical or electronic in nature . How employees communicate to the outside environment is equally important. It reaches far beyond the yearly compliance training class. The importance of keeping Intellectual property secure is part of the business culture.
3. Driving Process Improvements
Process improvements take on various names and methods. Regardless of the method used, eliminating waste helps increase quality and decrease costs for the firm. Lean tools are a never ending process to drive continuous improvement. The importance of reducing waste should not be underestimated. The need to build standard processes that are transferrable throughout the organization will provide parity when dealing with internal or external customers. Companies with a strong continuous improvement mentality outperform their competitors on many fronts including quality, delivery and cost.
4. Managing the Regulatory Landscape
Rules and regulations whether related to firm's associates, work standards, security or the environment will increase. Depending on the business, regulatory changes can and will affect the business climate. How the firm manages these changes will be a critical piece of gaining and/or maintaining a competitive advantage. In many cases, regulations help spur new thinking and drive innovation. However the task of meeting the regulatory landscape on a global basis is quite complex and will require due diligence for the firm to remain current. The entire firm not just management is impacted by these changes so a strong communication network is necessary to insure all affected parties are educated in their responsibilities.
5. Global Market Relevance with VOtC (voice of the customer)
Innovation is a critical core competency for the firm to sustain over time. To gauge future market needs/wants is critical. Firms that maintain a strong linkage between their customers and themselves are more apt to be on the leading edge of change. To insure their firm has a strong skill set in available technologies to meet current and future customer needs is critical. Product life cycles continue to accelerate becoming shorter with each innovation. A firm must be proficient at project management and accelerated product development.
In conclusion, when the global market growth slows down as is evident this year firms that win become world class leaders in the above five topics. Winning firms will be able to gain/sustain market share and maximize profits even if global growth remains flat. The course to follow is not easy to manage. Firms with high energy and engagement will always outperform the competition!
For more information about Benedictine or to learn more about our online MBA call us at (866) 295-3104 to speak with a Program Manager.
About the Author
Pete Papantos is an operations director at a Fortune 500 company. He is responsible for the global execution of their strategic plan and driving operational excellence using lean methods. In addition, Pete is a graduate instructor with emphasis in operations and strategic management — both in traditional and online settings.