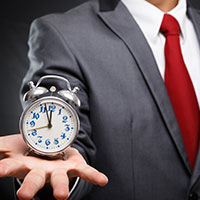 One of the questions I often get from new graduate students, particularly adult learners, is how to balance school with the needs of other obligations such as work and family. I started my master's program directly out of undergrad. While I was working when I began my doctorate, my only obligations were my job and my weekend golf games with my buddies. I did not have the demands of a spouse and children during my graduate school experience. Now that I have both of those I know how difficult it can be to find balance. I'd like to share some tips for what seem to be the best practices of those who can effectively execute this amazing balancing act.
The first thing you have to do is recognize that life does not slow down just because you are in grad school. If anything, it accelerates. Depending on the program you are in and number of classes you are taking, a graduate program can easily take 10+ hours a week of your time between reading, writing, class attendance, and group projects. These activities usually fall into what had previously been your down time before you started back to school. You have to mentally prepare yourself for this fact so as to not be shocked and overwhelmed when you realize just how busy you have become.
Schedule specific times in your week for nothing but study and stick to it. It is very easy to let study time slip away and if you don't schedule it in, it is very likely to be forgotten about. The best option is to schedule these times while the rest of the people in your house are asleep. Some successful learners I know only study early in the morning before everyone wakes up. Others will only study late at night after everyone goes to bed. Which one works for you will depend on your own unique situation, but doing so has a huge impact on the quality of your work because this allows you to knock out what needs to be done without ongoing interruptions, which can kill the process.
At the start of each class, go through all the assignments, and put the due dates in your calendar. Then go back and set reminders for when you plan to start the work, as well as when you plan to hit major milestones such as finishing up some large section and when you plan to proofread it. Trying to do things for graduate school at the last minute rarely works. The depth of discussion and quality of writing required means you have to be ready to go through something several times before you are done. As such, plan ahead.
If at all possible, have a set place to study and don't use it for anything else. I know a lot of people who study at the kitchen table. While this works for a few people, most successful people I've known over the years have said they have a specific spot in their home where they do their school work and everyone else in the house knows to leave that spot alone. This tends to put you into a school mindset that allows you to concentrate more effectively.
Finally, no matter how tired and frustrated you become, keep reminding yourself that there is an end point to this process. And always keep the reason you chose to return to school in the back of your mind. This is your goal – don't let anything get in your way of achieving it. Many people let time slip away while in grad school by thinking about how hard it is and not being able to see the light at the end of the tunnel. This added stress only distracts you from your goal and takes time away from completing your degree. When you are finished, you'll have that down time back. Keep reminding yourself that the more you focus, the better you'll do and the sooner you'll graduate.
For more time management tips or to learn more about Benedictine's online MBA call us at (866) 295-3104 to speak with a Program Manager.
About the Author
Jimmy Brown, Ph.D. is a senior level management consultant with eighteen years of experience leading efforts to develop and implement practical strategies for business performance improvement. Dr. Brown has held senior level consulting positions at leading firms such as Booz-Allen & Hamilton, Accenture and Hewlett-Packard.
He can be reached at www.jimmybrownphd.com or via Twitter @jimmybrownphd