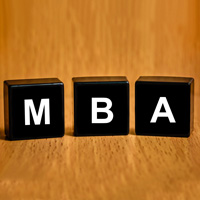 Pursuing an MBA in order to advance one's career makes sense. After all, most firms look for potential employees with not only skills to perform the job but also provide sound thought around making business decisions. No matter which industry you serve, public or private, the same foundation of business principles apply. These include strategic, operational and tactical decisions. Driving operational excellence is a must to drive future growth in your business.
The majority of current MBA students are part time whether online or in a traditional program. In addition, the MBA student has professional experience in their chosen career. This may be technical or business related such as finance, sales or marketing.
So why should you pursue an MBA?
The key characteristics of an MBA program enable the student to gain the appreciation for a system, in this case what is required to transform an input to an output. Regardless of your background, technical, business, or liberal arts, the MBA will provide you the necessary learning to run a business. In addition, the MBA provides a safe learning environment for the student to practice and hone their business skills. One example at Benedictine University is the use of a simulation model called Business Strategy Game (BSG). This tool provides the student in a team setting the opportunity to make decisions on running a shoe manufacturing/distribution operation. What better way to practice which business "levers" to pull when seeking profit? This enables a student to collaborate with others on the team and learn from their professional strengths. What better way to practice real world scenarios while learning the hard decisions that go into running a business?
You learn from others including working instructors that include working practitioners. Look at this as free consulting work. As you network with not only peers but also instructors you are able to not learn from experienced peers. The Benedictine MBA program has a diverse group of enrolled students as well as instructors facilitating the program. There is no better way to learn than from real world experiences of others. To receive and share real business situations and what was done to drive success or failure is invaluable. This in itself is a key strength of an MBA program such as Benedictine's!
An MBA serves as an enabler to higher levels of management. If you scan the professional job sites you will see an MBA is required to even be considered for open management positions. This shows the prospective employer that the applicant has been "certified" in the advanced concepts of running a business.
Yes, you can make more money! Studies have shown your investment make be recovered within 4 years of the investment. Even a shorter period of time if you receive tuition reimbursement from your current employer.
You can use this education to launch your own business. There are various schools of thought that budding entrepreneurs may not need a formal education to launch the next great idea. I will agree timing is critical on new product launches. But for many technically driven entrepreneurs being able to compose a sound business plan and have a thorough understanding of the key components an MBA is a good idea.
You get to practice! This is invaluable. The school of "hard knocks" is an avenue one may pursue to gain skills and knowledge. The MBA gives students to opportunity to sharpen their managerial skills as well as soft skills. Working on teams and analyzing companies in real world settings better prepares the student than simply experience. Think of this as the business "learning curve"!
Making a decision to pursue an MBA should not be taken lightly. After all it is a significant time and financial commitment. Motivation to insuring the MBA program you pursue is a critical first step. But I recommend digging deeper. Look into the curriculum and most importantly the instructor profiles. Solid MBA programs have this information readily available. Insure the school has the necessary student services in place to support you in your MBA journey. Finally, talk to past MBA graduates from the school of interest. What better way to determine what to expect than through the eyes of a past customer.
Finally, the beauty of technology enables prospective students the luxury of not being physically located close to the University of their choosing. Online programs are a viable alternative. When you make the decision to pursue your MBA keep this in mind.
Looking forward to seeing you in class!!
If you are ready to pursue your MBA degree or would like more information, call (866)-295-3104 to speak to a Program Manager.
About the Author
Pete Papantos is an operations director at a Fortune 500 company. He is responsible for the global execution of their strategic plan and driving operational excellence using lean methods. In addition, Pete is a graduate instructor with emphasis in operations and strategic management — both in traditional and online settings.