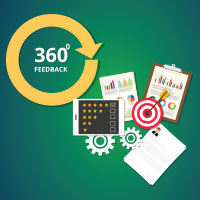 As an executive coach, I take what I like to call 'data driven' engagements I take look at what is expected of the client, have them complete a personality assessment (I usually use the Birkman) and then complete a 360 assessment to determine what people in the organization think of the person I am coaching. Using these data points, we then develop an actionable plan that builds upon the executives strengths and mitigates their blind spots.
One of the challenges that I've found has been identifying a 360 assessment tool that met my needs. All the major tools out there have their pros and cons but I couldn't locate a single instrument that met my specific needs, so I created my own. For the past year I've been developing and piloting this tool and have found insights that should be beneficial to MBA candidates who are looking to advance their careers. 
The first is that while competencies (what most 360's measure) are critical; they are not the only component to growing executives and leaders. They are a good starting point, but not what people evaluate leaders on. When we look at what executives do in leadership development that seems to be all there is.  
What leaders are evaluated on most often are the outcomes their teams produce. Those outcomes can be sales revenue, new innovations developed, or widgets produced. The specific metrics may change from organization to organization, but the importance of producing consistent outcomes remains the same. If you don't produce good outcomes you won't be seen as an effective leader. Recognizing this, I spent a ton of time trying to find the link between competencies and outcomes. 
What I found was that the link between competency and outcomes seems to be effort. Competencies, Outcomes are connected by Effort, or when you rearrange them, Competencies plus Effort leads to Outcomes.  C+E=O or CEO.  This is what it takes to be a good leader, and it should not seem like a coincidence that it is the same as the title for the highest level executive in most companies. Seems like common sense, but luckily we also have data to support it. That is also why I call the assessment tool the CEO 360. 
So far I have collected data from over 100 people and some very interesting insights are emerging. Those 'leaders', who are ranked lower, tend to mostly be lacking in the effort category. Sure there are those who have less competence, but they seem to make up for that over time. There are also a few people who rank high in competence and high in effort, but have very low outcomes. This seems to suggest some kind of organizational issue. There is a lot more data to collect before we call this done, but if we build our Competence and put forth the Effort we should see Outcomes.  If we don't, there are broader issues we may need to work to address.
If you would like to enhance your leadership skills and competencies Benedictine University offers an Online MBA program that will give you the tools you need to advance your career. Call 866-295-3104 to speak with a Program Manager and learn more. 
About the Author
Jimmy Brown, Ph.D. is a senior level management consultant with eighteen years of experience leading efforts to develop and implement practical strategies for business performance improvement. Dr. Brown has held senior level consulting positions at leading firms such as Booz-Allen & Hamilton, Accenture and Hewlett-Packard. 
He can be reached at www.jimmybrownphd.com or via Twitter @jimmybrownphd.