Assistant Professor & Department Chair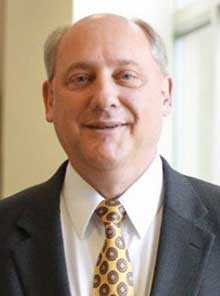 Ricky M. Holman J.D. joined the faculty at Benedictine University in 2005. In 2014, he was appointed the Graduate Business Administration Department Chair. Atty. Holman manages the Business Law certificate, concentrations and the MBA/JD program with The John Marshall Law School. He has taught a range of courses including Leadership & Business Ethics, Business Law, Legal Aspects of Human Resources, and Intellectual Property.
Atty. Holman has 20 years civil and criminal law expertise and is licensed to practice in Illinois and Missouri. His experience includes 18 years as a Public Defender in DuPage and DeKalb County, IL. He also has experience in private practice and with the Federal Bureau of Investigation. Outside the classroom, Atty. Holman teaches law related topics for various associations and organizations, is a Mental Health First Aid instructor, and has been a Civil War re-enactor for over 30 years.