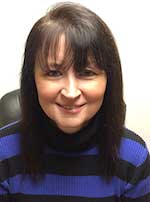 Cassie Busse is currently a Materials Manager for Videojet Technologies in Elk Grove Village, IL. With more than 325,000 coding systems installed worldwide, Videojet Technologies is the most successful provider of coding solutions across all industries. She has been with Videojet for over 24 years in different roles within the Supply Chain function including ERP implementation, inventory management, production planning, warehouse management, purchasing and transportation and hazardous material documentation. She has fully implemented a Lean Management system within her facility which has caused continuous improvement to become a way of life there.
Cassie graduated with a BS in Business with an emphasis in Operations Management from Northern Illinois University. After working for several years, she attended Roosevelt University where she attained her MBA with an International Business emphasis. Cassie has earned both her CPIM and CSCP certifications from APICS and actively participates in learning opportunities offered through the APICS organization.
Cassie started teaching in 1997 at DeVry University. At that time, she taught MRP/CRP and Just in Time methodologies. She later transitioned into the accelerated Weekend Program where she taught Operations Management. She has also taught at Northwood University where she taught Operations Management in a hybrid setting which consisted of both in-class and on-line instruction.
Cassie started teaching at Benedictine University in June 2010. She enjoys getting to know her students through the online forum discussions. Teaching allows her to stay active within her own educational pursuits. The shared experiences of the students help to keep her current on emerging issues within the business community.