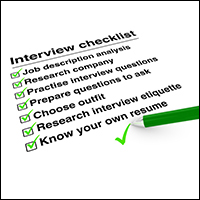 It's no secret that preparation can be the key to a successful job interview. But, what are the some of the best ways to prepare?
You've worked hard to advance your nursing career and continue your education with a Master of Science in Nursing degree from Benedictine University online. Now that you're ready to apply for a leadership position in the health care field, there are many ways to prepare for the upcoming interview. Whether it's answering tough questions, quoting current research findings or understanding the workplace culture, you can show off your leadership skills and health care knowledge to potential employers with confidence.
1. Research the facility you're applying to and the people you will work with.
Knowing more about the facility can assist you in determining your cultural fit and how you can help the facility achieve its goals through an administrative capacity. Knowing more about who you are interviewing with can help you feel more comfortable and anticipate questions they may ask.
2. Prepare for behavioral-based questions specific to a nurse administration role.
Although you can never be certain of the specific questions you'll be asked during an interview, there are a few you can expect and prepare for such as, what are your feelings on diversity in the workplace? What is your management style? How will you motivate your team? How do you handle conflict? What leadership experience do you have? And how do you stay organized?
3. Practice your responses to questions in advance.
A helpful tip is to utilize the PSR technique by stating the problem, the solution you came to, and the end results. Having your own questions will show that you've prepared and researched the job. It's also important to
4. Be current with nursing news, legislation, and research.
You can wow interviewers by quoting current research findings and how you will lead your team by sharing evidence-based nursing research. If you want to wow them even more, talk about recent legislation that could affect you, your team, and the work environment at their organization.
5. Show a positive attitude and be relatable.
Always have a smile on your face, and show that you're the type of leader they can trust their staff with. Be ready to show them that you're the type of nurse administrator that leads with confidence, organizational skills, patience, and that you're always looking for ways to improve the lives of your staff and patients.
Want to learn more about becoming a nurse administrator? Check out the "What Skills are in Demand for Nurse Administrators" free guide.