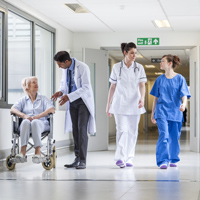 The Magnet Recognition Program, initiated by the American Nurses Credentialing Center in 1990, recognizes healthcare organizations for care quality, nursing practice innovation and nursing excellence.
The Magnet program signifies to consumers the institution is of the highest caliber in terms of quality of care and staff by utilizing 14 qualifying factors.
1. Quality of Leadership
Excellent nursing leaders were perceived to be knowledgeable risk takers, guided by an articulated philosophy in doing the daily operations. Nursing leaders can be strong advocates for staff by being risk takers in the development of healthy work environments.
There is a link between the health of the workplace and the well-being of the personnel, and healthy workplaces are correlated with healthier patients. Organizations with unhealthy work forces may have a cost burden from absenteeism, inadequate work performance, loss of productivity, work-related accidents, stress, and high incidence of health-related litigation.
Organizations which have implemented workplace health programs have seen results such as reduced absenteeism, improved employee morale, reduced personnel welfare problems, increased efficiency, improved organizational performance, and enriched public image.
Poor leadership and management styles, lack of supervision and guidance, and lack of recognition of contributions have been identified as major stressors. On the other hand, positive workplace management initiatives, including career development, reward schemes, and open management styles that are consistent with transformational nursing leadership foster healthy, staff-focused workplaces.
Sustainable workplace health interventions are needed and may include organizational development, good health and safety practices and records, supportive interpersonal relationships and organizational culture; orientation, training and support to learn jobs; good human resource management; good communications, marketing; multidisciplinary collaboration; and multi-method evaluation.
A top-down and a bottom-up approach to spreading a nursing innovation was found to be successful. The top-down can work for a predefined innovation, especially when the innovation has been previously tested, and when consistent adoption throughout the system is desired. The bottom-up approach allows frontline staff to play a major role in identifying areas and strategies for improvement. That fosters staff ownership for the innovation and effective adaptation to specific settings. In that case, risk taker leaders are practicing participative management and transformational leadership.
2. Organizational Structure
Excellent organizational structures were perceived to be flat, with decentralized nursing departments that had strong nursing representation in the organizational structure. The nursing leader served at the executive level of the organization and reported to the chief executive officer.
Many hospital leaders are faced with building new facilities or renovating existing ones to accommodate new technology. Leaders need to widen the sphere of influence and involvement by interfacing with boards of directors and community leaders to get acceptance and funding for designs, as well as network with nurse leaders to learn about projects that demonstrated positive outcomes.
Some healthcare leaders have been developing and testing new care delivery models, such as the 12-Bed Hospital Model, the Primary Care Team Model, the Collaborative Patient Care Management Model, and the Transitional Care Model, by involving nurses and other health care providers in various roles across the continuum of care.
These new models elevated the registered nurse (RN) role to primary care manager from admission to discharge and often back into the community. They sharpen the focus on the patient, while the care is nurse managed and patient directed. The early and regular involvement of care givers in the design and implementation of the new models has been important.
Modern organization theory assumes that an organization is an integrated system with integrated parts, but there is not one best organizational structure. The design should help coordinate resources to achieve the organizational goals. Institutions need to be adaptive, creative and robust to solve the ever-changing challenges.
3. Management Style
Excellent management styles perceived to be participative encouraged and valued feedback from staff at all levels in the organization. Nursing leaders were visible, accessible and committed to communicating effectively.
Patients in teaching hospitals reported higher perceptions of quality, health benefits and level of independence than patients in community hospitals. Patients reported higher perceptions of health benefits on units, with a higher percentage of casual nurses suggesting that satisfaction with work arrangements may influence patient care.
Many articles published during the 2000s found that reorganization, communication, environment and other changes were major reasons for resignations. Organizational bureaucracy, hierarchy, authoritarian leadership, and poor access to information were found to limit empowerment and lead to dissatisfaction, burnout and absenteeism.
Trust and job satisfaction were significant predictors of commitment and intent to stay and it has been suggested that the ability to inspire moral in staff is a good nursing leadership quality. Recognition for achievements and outstanding nurse performance can be used to encourage retention.
Management support, transformational leadership, empowerment, participatory management, communication, and accessible and visible leaders contributed to job satisfaction, retention of nurses and better patient outcomes.
4. Personnel Policies and Programs
Personnel policies were created with staff involvement and were perceived as competitive. Administrative and clinical promotional opportunities were provided.
In the 1980s, nurses indicated that they wanted flexible work schedules that allowed blending personal and professional lives and accommodated individual needs. Nurses wanted competitive salaries and benefits, participation in recruitment activities, and social and recognition programs.
With participative management and a focus on evidence-based practice, staff can also be involved in the development of policies in general. Level and quality of evidence from the strongest (meta-analysis or systematic review of multiple-controlled studies or clinical trials) through to the weakest which is opinions of respected authorities were identified by Oman et al. in 2008. They also present steps to create and review policies and select the policy to make or review.
5. Professional Models of Care
Nurses had the responsibility and authority for the provision of patient care, were accountable for their own practice, and were the coordinators of care.
In the original Magnet hospital study, nurses found primary nursing to be satisfying. They felt in control of nursing practice and facilitated interdisciplinary planning and coordination of care to the home and other settings. They also developed and conducted health education programs.
In research involving 80 acute care adult units in 40 randomly selected US hospitals, it was found that no nursing practice model was implemented fully and non-intensive care units demonstrated a wide variety of assignment patterns. Patterns differed intra-institutionally. Other researchers found that positive professional practice environments and high-core self-evaluation predicted nurses' constructive conflict management and greater unit effectiveness.
6. Quality of Care
Providing quality care was perceived as an organizational priority. Nursing leaders were seen as responsible for developing an environment that fostered quality-of-care delivery while staff nurses thought they were providing high-quality care.
It has been analyzed whether nurse outcomes and adverse events differed in hospitals with varying proportion of non-permanent nurses. Although temporary nurses had qualifications similar to the permanent staff nurses, deficits in patient care environments in hospitals employing more temporary nurses may explain the association between poorer quality and temporary nurses, thus giving the unwarranted negative perceptions about temporary nurses.
Nurses spent considerable time doing non value-added activities, with more time on support activities than providing patient care or providing psychosocial support. They believe there is an opportunity to improve clinical outcomes and cut costs at the same time by increasing support activities and patient care time, particularly in patient teaching and psychosocial support while reducing the time on non-value-added activities.
The net effects of nurse practice environments on nurse and patient outcomes after accounting for nurse staffing and education have been analyzed. It was found that nurses reported fewer concerns with care quality, more positive job experience and that patients had significantly lower risks of failure to rescue and death in hospitals with better care environments. They conclude that care environments must be optimized as well as the nurse staffing and education levels to achieve high quality of care.
7. Quality Improvement
In the original Magnet study, nurses valued quality assurance and the accountability associated with the review and evaluation of nursing care. Nurses participated in quality improvement that was perceived to be educational and was done to improve the quality of care delivered in the organization.
Research, quality improvement and evidence-based practice are related but different. The integration of research and evidence-based practice into clinical and operational processes plays a major role in obtaining Magnet hospital status.
The development and implementation of a nursing research team in a large healthcare system has been researched, identifying that nurses are able to generate and use nursing knowledge to improve practice when there is a clear direction from leadership, access to nurse researchers that coach and mentor, infrastructure resources and leadership support.
The need for developing a questioning culture has been identified; training managers in evidence-informed decision-making, establishing relationships with individual researchers, universities, research centers, consulting firms and other knowledge brokers. Nursing leaders can improve attitudes about and participation in research utilization by internally marketing the support available for research-related activities. However, change in the organizational culture needs support from both the leaders and the clinicians. It has been noted that many organizations applying for Magnet status rated higher than Magnet organizations regarding hospitals' responses to the nursing shortage, characteristics of the work environment and professional relationships, indicating there is much to do to maintain the comparative advantages of Magnet hospitals.
8. Consultation and Resources
In the original Magnet study, participants identified the head nurse, supervisor, clinical nursing specialist, psychiatric liaison nurse, ethicist, philosopher and other health care disciplines as needed consultants and resources. Consultation and resources were perceived to be adequate and available. Peer support was given both within and outside the nursing division and advanced practice nurses were available and used as knowledgeable experts. Nursing professors and researchers as resources to hospital nurses have also been specifically identified.
The roles of the clinical nurse leader and the clinical nurse specialist have been clarified: the clinical nurse leader is responsible for coordination and implementation of patient care; providing education to staff and patients; developing and refining of outcome goals; working with a multidisciplinary team for coordinating care of high-risk patients; and serving as a resource to staff. The clinical nurse specialist is responsible for designing and evaluating programs of care; providing education and training, participating in research; developing and refining hospital goals for education of staff and serving as a resource and consultant.
9. Autonomy
In the original study, nurses thought primary nursing allowed for independent judgment and freedom to function. Autonomous independent judgment was expected to be used within multidisciplinary approaches to patient care.
Autonomy is related to power and empowerment. A nurse's power can come from a workplace structure that promotes empowerment, from a psychological belief that one has the ability to be empowered, and from understanding that there is power in the relationships and caring that nurses provide. Nurses are practicing autonomy when establishing standards, setting goals, monitoring practice and measuring outcomes. Patient care programs such as nurse-managed clinics or outreach programs allow nurses to be autonomously creative and innovative. This contributes to enhanced self-esteem and self-actualization and improved image of nurses and the hospital in the community.
10. Community and the Hospital
Hospitals that maintained a community presence were better able to recruit and retain nurses. Institutions with a variety of ongoing, long-term outreach programs were perceived as strong, positive and productive corporate citizens. In the original Magnet study, nurses viewed professional practice as extending into the community such as discharge planning and visiting patients in nursing homes and their homes. They believed that inpatient care and programs could be used to promote health in the community.
Health organizations can develop a democratic and empowering partnership with the community that allows the community to identify and address priority health concerns. Community programs are likely to include screening and teaching.
11. Nurse as Teacher
Nurses were expected to incorporate teaching into all aspects of their practice and reported getting considerable professional satisfaction from the teaching. Nurses realized they could make a large contribution to teaching patients and their families, had a professional obligation to teach students, nurses and other health professionals and that teaching advanced their own learning. Nurses did patient and family teaching and peer-focused activities such as developing learning modules, leading grand rounds and providing in-service education to colleagues. Nurses also do health teaching in the community.
12. Image of Nursing
In the original Magnet study, nurses were aware of the importance of their image. The general image of nurses was good. Nurses had a positive feeling about themselves. Patients acknowledged that the nurses provided good care. Nurses were viewed as integral to providing patient care services and were viewed as essential by other members of the health care team. Nurses were viewed as competent, credible, valued, respected and necessary for the survival of the hospital. The single exception to the overall positive image of nurses was the physicians' perceptions of nursing. The doctor–nurse relationships require attention and nurturing.
13. Interdisciplinary Relationships
There was mutual respect among disciplines, and the interdisciplinary relationships were viewed as positive. Massachusetts General Hospital staff has developed a multidisciplinary clinical recognition program that offers direct care practitioners a defined pathway for clinical development that recognizes and celebrates all levels of practice - from the beginning practitioner to the experts from six different disciplines.
An important variable in nurses' satisfaction was the nature of the nurse–physician relationships. Expert cultures such as physicians are motivated by accomplishment and power instead of affiliation. Teamwork, consensus building and interdependency are not part of the expert culture. The trend is towards interdisciplinary education of professionals with some focus on teamwork. Nurses particularly appreciated understanding, open and accurate communication from attending-level physicians.
While nurses are subject to incivility and violence from other health care providers, staff, patients, visitors and suppliers, they are apparently most concerned about the aggression from their colleagues. It is also associated with power struggles from conflicts of values related to leadership styles, work expectations and organizational conditions. Horizontal violence has been correlated with decreased morale, satisfaction and job performance. There is a need for leaders and managers to decrease toxic workplaces by such means as role modeling professional behaviors, using open communication and nurturing a culture of recognition, and having a policy of zero tolerance for violence.
14. Professional Development
Most successful hospitals placed a significant emphasis on orientation, education and career development. Many in-service programs were provided at the work site, but in hospital systems, some nurses attended programs offered in other institutions. Magnet hospitals nurses were encouraged to gain Bachelor of Science degrees and there were accommodations made to pursue degrees. Career ladders were used to foster career development and development of nurses was emphasized to improve quality of nursing care.
The Health and Environmental Sciences Institute (HESI) examination was an effective predictor of workplace competency for new graduates assigned to acute care and critical care units. A three-component orientation for nursing leaders, including nurse manager competencies, precepting by the supervisor and written and classroom resources has been recommended. 
Strategic visioning and decision making, assessment, building support structures, administration and evaluation has been by some used in order to implement a transformational model. Others used mentoring, education and support to help leaders change from exercising control to guiding and facilitating group decisions.
Magnet Hospitals seek top notch nurse leaders. For more than 25 years, Benedictine University's online Masters in Nursing (MSN) degree program has been preparing registered nurses (RN) to become future leaders.
Benedictine's online MSN is accredited by the Commission on Collegiate Education (CCNE) and aligns with the graduate education standards specified by the American Association of Colleges of Nursing. The 100 percent online MSN offers two concentrations, as a Nurse Educator or Nurse Executive Leader, and a dual MSN/ Master of Business Administration (MBA) option.
Call Benedictine University at 866-295-3104 to speak with a Program Manager or visit online.ben.edu to learn more about how you can become a nurse leader.
References
Adapted from: Tomey, A.M., (208). Nursing leadership and management effects work environments. Journal of Nursing Management, 17 (1), 15-25. [WWW document] URL http://onlinelibrary.wiley.com/enhanced/doi/10.1111/j.1365-2834.2008.00963.x/  [accessed July 2 2014].