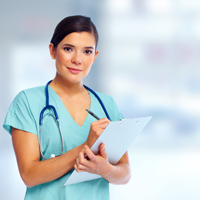 Research has shown that the use of evidence-based practice improves patient care outcomes when compared to traditional practice. Advanced Practice Nurses are called to systematically research and evaluate current nursing knowledge to encourage evidence-based practice. It is imperative that Masters-prepared nurses walk away from their MSN program with a thorough understanding of how to uphold qualitative rigor in qualitative research in order to utilize evidence-based practice most effectively.
Qualitative rigor. It's one of those terms you either understand or you don't. And it seems that many of us fall into the latter of those two categories. From novices to experienced qualitative researchers, qualitative rigor is a concept that can be challenging. However, it also happens to be one of the most critical aspects of qualitative research, so it's important that we all start getting to grips with what it means.
Rigor, in qualitative terms, is a way to establish trust or confidence in the findings of a research study. It allows the researcher to establish consistency in the methods used over time. It also provides an accurate representation of the population studied. As a nurse, you want to build your practice on the best evidence you can and to do so you need to have confidence in those research findings.
This article will look in more detail at the unique components of qualitative research in relation to qualitative rigor. These are: truth-value (credibility); applicability (transferability); consistency (dependability); and neutrality (confirmability).
Credibility
Credibility allows others to recognize the experiences contained within the study through the interpretation of participants' experiences. In order to establish credibility, a researcher must review the individual transcripts, looking for similarities within and across all participants.
A study is considered credible when it presents an interpretation of an experience in such a way that people sharing that experience immediately recognize it. Examples of strategies used to establish credibility include:
Reflexivity
Member checking (aka informant feedback)
Peer examination
Peer debriefing
Prolonged time spent with participants
Using the participants' words in the final report
Transferability
The ability to transfer research findings or methods from one group to another is called transferability in qualitative language, equivalent to external validity. One way of establishing transferability is to provide a dense description of the population studied by describing the demographics and geographic boundaries of the study.
Ways in which transferability can be applied by researchers include:
Using the same data collection methods with different demographic groups or geographical locations
Giving a range of experiences on which the reader can build interventions and understanding to decide whether the research is applicable to practice
Dependability
Related to reliability in quantitative terms, dependability occurs when another researcher can follow the decision trail used by the researcher. This trail is achieved by:
Describing the specific purpose of the study
Discussing how and why the participants were selected for the study
Describing how the data was collected and how long collection lasted
Explaining how the data was reduced or transformed for analysis
Discussing the interpretation and presentation of the findings
Explaining the techniques used to determine the credibility of the data
Strategies used to establish dependability include:
Having peers participate in the analysis process
Providing a detailed description of the research methods
Conducting a step-by-step repetition of the study to identify similarities in results or to enhance findings
Confirmability
Confirmability occurs once credibility, transferability and dependability have been established. Qualitative research must be reflective, maintaining a sense of awareness and openness to the study and results. The researcher needs a self-critical attitude, taking into account how his or her preconceptions affect the research.
Techniques researchers use to achieve confirmability include:
Taking notes regarding personal feelings, biases and insights immediately after an interview
Following, rather than leading, the direction of interviews by asking for clarifications when needed
Reflective research produces new insights, which lead the reader to trust the credibility of the findings and applicability of the study
Today's nurse leaders are being called on to do more than ever before. It is imperative that nurse leaders choose an MSN program that arms them with the latest knowledge to prepare themselves for this evolving landscape.
For more than 25 years, Benedictine University's online Masters in Nursing (MSN) degree program has been preparing registered nurses (RN) to become future ethical leaders and health educators.
Benedictine's online MSN is accredited by the Commission on Collegiate Education (CCNE) and aligns with the graduate education standards specified by the American Association of Colleges of Nursing. The 100 percent online MSN offers two concentrations, as a Nurse Educator or Nurse Executive Leader, and a dual MSN/ Master of Business Administration (MBA) option.
Call Benedictine University at 866-295-3104 to speak with a Program Manager or visit online.ben.edu to learn more.
References
Adapted from:Thomas, E. and Magilvy, J. K. (2011), Qualitative Rigor or Research Validity in Qualitative Research. Journal for Specialists in Pediatric Nursing, 16: 151–155. [WWW document]. URL http://onlinelibrary.wiley.com [accessed 2 July 2014]