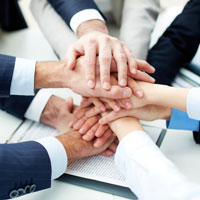 A former boss of mine used to beat the performance drum a lot in our consulting work. So much so that one client asked if he knew about anything else, but that is a discussion for another time. One of his favorite stories had to do with a presentation at the Pentagon to a group of Generals and Colonels who really wanted to talk about competency modeling rather than performance management. Knowing that this was the wrong place to take the conversation if they wanted to address the identified challenge, my colleague asked the Four Star General (highest ranking person if the room) if he had ever seen someone who was competent but not performing. The General's response was "Oh yes, and a few of them are in this room."
While this conversation didn't win any friends at the DoD that day, it does illustrate that even with highly competent and high ranking people, there can still be a lack of performance. The question of course is why, and what can we do about it? To understand that we must have a clear definition of performance. One of the best definitions I've heard is a summary term used to include the desired behaviors and the valuable outcomes produced by those behaviors. In other words, it is getting people to do the things we ask them to in a way that contributes to the goals of the business. If people engage in other kinds of behavior, or produce outcomes that negatively impact the business, then they are not performing.
So why does this matter when we talk about culture? To understand this, we need to loop back to one of the key theses in Jonathan Baskin's Branding Only Works on Cattle (2008). The short version of this thesis is that it is not our logos or catch phrases that keep customers coming back, but the positive experiences they have with our organization. Those positive experiences are the result of people in our organizations executing the desired behaviors to produce the outcomes that are desired by the company and the customer. More importantly they engage, in those behaviors consistently over time, even when no one is watching. If we think back to our earlier discussions of culture, one of the ways to conceptualize an organization's culture is to think about it is what people do when no one is watching.
So how do does culture relate to performance? Quite simply if you don't have a culture that promotes performance, you will not have performance. Sure you may get some spikes in desired outcomes here and there, but as soon as the boss's back is turned employees may start engaging in less desirable behaviors. If you really want your drive performance you must implement a culture that supports it. How do we do that? We'll talk about that when we look at how we develop a Performance Strategy.
References
Baskin, J.S. (2008). Branding only works on cattle: The new way to get known (and drive your competitors crazy). New York: Business Plus
Related Benedictine Programs
If you are interested in learning more about creating a strong culture, check out Benedictine's Management and Organizational Behavior program, which offers courses on Organizational Culture, Strategic Management and Organizational Behavior. Benedictine University also offers online Bachelor's degrees. To learn how an online degree from Benedictine can help you hone your leadership skills talk to a Program Manager today.
About the Author
Jimmy Brown, Ph.D. is a senior level management consultant with eighteen years of experience leading efforts to develop and implement practical strategies for business performance improvement. Dr. Brown has held senior level consulting positions at leading firms such as Booz-Allen & Hamilton, Accenture and Hewlett-Packard.
He can be reached at www.jimmybrownphd.com or via Twitter @jimmybrownphd