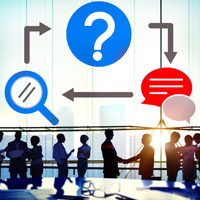 If you are a student or a practitioner of organization development (OD) and you've never heard of David Cooperrider, you have probably been hiding under a rock. Or at least not paying much attention to the trends in the field. Dr. Cooperrider is the Fairmount Minerals Chair and Professor of Social Entrepreneurship at the Weatherhead School of Management at Case Western Reserve University, and Faculty Director at the Center for Business as an Agent of World Benefit at Case. In addition to his primary roles, he also teaches at University of Pennsylvania as well as Claremont University. At Claremont, he was named The Peter F. Drucker Distinguished Fellow. This distinction is one of the highest honors in the field of management. His research and writing has focused on leadership, change management, and of course organization development.
What Dr. Cooperrider is probably best known for is his development of Appreciative Inquiry (AI). Born out of his doctoral dissertation, AI is a technique for managing organizational change that focuses on building upon the strengths of the organization and creating a positive flow of energy to drive the organization to ongoing success. The AI method uses a 4D cycle that includes:
Discover: Identifying organizational processes that work well
Dream: Envisioning processes that would work well in the future
Design: Planning and prioritizing processes that would work well
Destiny: Implementation of the proposed design
While we could never do justice to all the nuances of AI in one short blog post like this; it suffices to say that it has been successfully applied in for-profit, not-for-profit, governmental and non-governmental organizations worldwide. It is a unique approach that builds on what is best for the organization and its people. Each year more and more books and articles are produced that show the value of AI and its various applications.
Dr. Cooperrider is also a strong ally of Benedictine University's Master of Science in Management and Organizational Behavior (MSMOB) program. This support is demonstrated by Dr. Cooperrider's ongoing involvement in Benedictine's Ph.D. program as a Distinguished Visiting Scholar, and his regular speaking at Benedictine's Contemporary Trends Lecture Series weekends. These events bring together the entire Benedictine University Organization Development (OD) community, and provide learners with the opportunity to experience firsthand how leading scholars think. A primary reason for this is that prior to beginning his doctoral studies at Case Western, Dr. Cooperrider earned his Master of Science degree from George Williams University. While at George Williams, Cooperrider's thesis advisor was none other than Benedictine University's own Dr. Peter Sorensen. And the best part is that Dr. Cooperrider is only one of the many leading scholars that Dr. Sorensen has mentored over the years.
Learn more about Appreciative Inquiry or other Organization Development concepts in Benedictine University's Master of Science in Management and Organizational Behavior program – available both on campus and online. Visit us at online.ben.edu or call us at (866) 295-3104 to learn more!
About the Author
Jimmy Brown, Ph.D. is a senior level management consultant with eighteen years of experience leading efforts to develop and implement practical strategies for business performance improvement. Dr. Brown has held senior level consulting positions at leading firms such as Booz-Allen & Hamilton, Accenture and Hewlett-Packard.
He can be reached at www.jimmybrownphd.com or via Twitter @jimmybrownphd.