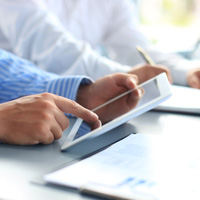 If you meet someone and they say they're a doctor, or a lawyer, or an accountant, you probably have a pretty good idea of what they do. If someone say's they are a consultant, that may not be the case. Despite books like Christopher D. McKenna's The World's Newest Profession: Management Consulting in the Twentieth Century and television shows like Showtime's House of Lies, the public's understanding of who consultants are and what they do is at best murky, and at worst inaccurate. Even so, an atypically high number of people in graduate business (e.g., MBA) and organization development (OD) programs say they want to "be a consultant" after they finish their degrees. But what in the world does that actually mean?
I have to be very honest, I've been a consultant for a little over 18 years, and I am still figuring that one out. If we Google the term "consultant" we end up finding descriptions of someone who helps organizations improve their performance. In other words, we come in and help them solve problems. That part is pretty clear. When we expand past that is where things get more complicated. You see, there are a lot of different kinds of consultants.
For starters, there are management consultants who work places like McKinsey & Company or Boston Consulting Group. These consultants are focused on areas such as business strategy and financial modeling. They usually have MBA's from top 20 programs and tend to drop in for short periods of time to do analysis, write reports and then move on to the next thing.
Then we have IT consultants. They can work at big technology firms like IBM and Hewlett-Packard, or systems integrators like Accenture and Deloitte. They are focused on helping organizations install or improve some large technology solution to meet a specific need. They usually have a lot people with undergraduate degrees in engineering or information technology, many of whom are very young and don't mind working a ton of hours. They also often have managers and partners who have gone back later to get graduate business degrees. They usually work with organizations from six months to multiple years depending the size and scope of the technology solution they are trying to put into place.
Finally, we have the consultants who deal with human capital issues. These consultants can work at either of the previously mentioned type of firms to provide support for those kinds of initiatives, or they can work for OD and HR focused firms like Personnel Decisions International or Develop Dimensions International. They might have master's degrees in OD, Ph.D.s in industrial and organizational psychology, or may just have fallen into it after working their way up through the HR department of a company. Their work can range from a couple of days for a training, to multi-year coaching engagements.
Truth be told, however, there are lots of subsets to each of these kinds of consultants and we could do a year of weekly blogs where we profile different ones without covering them all. It is a very broad and sometimes perplexing industry. That is the bad news. The good news is that it means that if consulting is something you want to do, there are many ways to go about it depending on where your skills, your talents, and your passions are. So the question is not do you want to be a consultant? The question should be what kind of consultant do you want to be?
Related Benedictine Programs
Are you interested in learning more about the different business areas that utilize consultants? Click here to learn more about Benedictine University's Master of Science in Management and Organizational Behavior program, which focuses on addressing the human side of business including leadership and organizational development strategies. To learn how an online degree from Benedictine can help you hone your leadership skills talk to a Program Manager today.
About the Author
Jimmy Brown, Ph.D. is a senior level management consultant with seventeen years of experience leading efforts to develop and implement practical strategies for business performance improvement. Dr. Brown has held senior level consulting positions at leading firms such as Booz-Allen & Hamilton, Accenture and Hewlett-Packard. He is currently a Practice Area Lead with Beacon Associates.
He can be reached at www.jimmybrownphd.com or via Twitter @jimmybrownphd