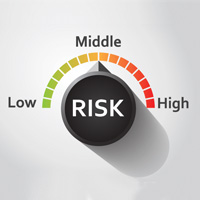 We teach our students in both the undergraduate and graduate curriculum failure is acceptable as long as we learn from our mistakes. The focus should be on the outcomes or results not on the shame or embarrassment we might feel. How can we take risks, be persistent with our approach and not worry about what others may think of us?
In my youth I wanted to learn how to ride a unicycle to win a bet. As I tried to master this feat I failed. This included falling off and hitting the ground. My enemy here was gravity and it hurt! Even though at first I failed I also learned, and over time, improved. Avoiding my prior mistakes I was able to gain a good level of proficiency. I used past failures to create future successes.
This is also true in business. We all want to win. But we cannot always win. Why does a forecast or plan not always translate into reality or actual results? Why did our marketing strategy fail or underperform when deployed? With every sound plan there is a level of risk. As I share with my online MBA students, without risk you will not reach your full potential. Fearing failure will limit opportunity.
Being cautious has its merits under certain circumstances. Workplace safety is one such example. But risk must be included in sound business strategy. How can an individual succeed and learn if trial and error is not practiced? How may a firm succeed if innovation and new ideas are not created and tested in the marketplace?
Over the years of my teaching career, I have seen many examples of success stories, case studies and articles on winning companies and leaders.  Of equal value are stories of companies and leaders that fail. Strategies that did not work when deployed. Individuals that tried but could not reach a successful outcome. Opportunities for students and practitioners to learn from.
I have my portfolio of wins and losses. I refer to these as my "war stories". Sharing these "war stories" with my students has spurred great conversation. What better way to reinforce risk taking and mitigate the impact of failing than the use of real world examples? The lesson I shared with my students was quite simple. As I was faced with new challenges and opportunities in my career I was able to use past learning, wins and losses, to increase the probability for future successes.  
Failure hurts. Focusing on the personal effects of failure such as shame or embarrassment will limit your ability to clearly weigh out various options.  Risk and reward scenarios will be limited to your level of comfort. Decisions that could yield above average results coupled with higher risk may not be considered. Where would many successful firms and leaders be today if failure was not an option? Food for thought.
Related Benedictine Programs
If you are interested in learning more about how you can hone your professional skills in risk management, check out Benedictine's online Master of Business Administration or Master of Science in Management and Organizational Behavior.
About the Author
Pete Papantos is an operations director at a Fortune 500 company. He is responsible for the global execution of their strategic plan and driving operational excellence using lean methods. In addition, Pete is a graduate instructor with emphasis in operations and strategic management — both in traditional and online settings.