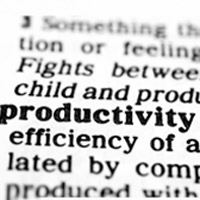 Productivity, a simple yet powerful ratio, measures outputs divided by inputs. The outputs are normally measured in units with the input to include all the operating expenses of the business such as labor, materials, capital, etc.  Normally expressed as units per dollar employed, this ratio enables a manager to gauge how well an operating unit is performing and to serve as a baseline for future improvements. In each and every MBA class I facilitate at Benedictine University, I share this metric with the students.  Whether it be an Operation's, Supply Chain or Strategic Management class, the use of this metric is important. It gives the manager a snapshot of a business performance and if not within plan or forecast enables the formation of counter measures to get back on track. 
So where does quality play a role here? Quality and its related costs, (preventive, external, internal and appraisal) reside in the denominator with other expenses. In the manufacturing world much of the cost stems from scraps or rework of a finished product and from the warranty costs associated with underperforming products. In services, costs mostly stem from rework, which consumes time but does not create value or more importantly revenue. These costs require a firm to add extra capital and consume additional labor and materials. Time is used on re-working a product or process that could have otherwise been utilized on producing new outputs!
Professor Yoji Akao, the founder of Policy Deployment (Hosin Kanri) included the need for Total Quality Control as a fundamental strategic tool to business performance and success. The need to drive quality into the organization to include process ownership will reduce and/or eliminate waste throughout the organization. Just imagine the dramatic impact the cost of poor quality has on business performance and the bottom line! Whether the cause of poor quality resides in lack of training, poor materials or non-existent processes, costs directly impact productivity. 
As a case in point, a firm that has a high level of defects in its manufacturing process (1 in 10) included these costs into the standard cost of the product (food). This increased the cost by 10% and affected productivity. More importantly the cost impacted the selling price for the finished product which impacted the sales forecast as well as the bottom line.  Profits were strained and market competiveness was lost. To enable a better competitive position and meet profit targets the firm went on a cost cutting campaign that had a far reaching impact on labor and other capital spending. The firm compromised its future due to cost cutting in design and marketing campaigns.   As seen in this example poor quality resulted in an impact to productivity and costs! 
I share this story with my MBA students and share the power they have in their hands with the mindset of quality and productivity.  The productivity metric encompasses all industries, tangible or intangible. The opportunity to reduce and eliminate waste is a strategic objective of the firm. Removal or the limitation of non- value added processes will decrease the denominator in the productivity ratio and increase the units per dollar employed! What better way to drive profits and gain market share.  But it does not come without a cost.  I do not believe quality is free. Rather there is cost/benefit ratio that a savvy manager must use to determine what to do.  As I share with my MBA students, the work is hard and the quest to achieving a higher ratio requires time, diligence and the need to study the process. As W.E. Deming shared there is no "instant pudding" when pursuing quality improvements.  Rather it is a long march that requires dedication from the entire organization. 
So my challenge to you, current and future managers, is to embrace the productivity metric, learn how to use it and improve upon it. What better way than use of the quality "lever" to enable improvement!
Related Benedictine Programs
If you are interested in learning more about the role of quality and productivity in Business, Benedictine's online MBA offers courses in Operations Management, Strategic Management and Analytical Tools for Management Decisions. Benedictine University also offers online Bachelor's degree programs. To learn how an online degree from Benedictine can help you in business talk to a Program Manager today.
About the Author
Pete Papantos is an operations director at a Fortune 500 company.  He is responsible for the global execution of their strategic plan and driving operational excellence using lean methods.  In addition, Pete is a graduate instructor with emphasis in operations and strategic management — both in traditional and online settings.