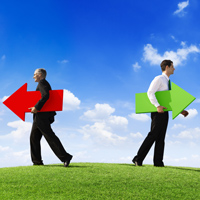 Before I get started I would like to share a bit of my background. I have been in operations for most of my 35+ year career with a focus on manufacturing. Yes, I make tangible "stuff". As a young lad the goods I produced were primarily for U.S. based markets. However, as time passed there was a fundamental shift in markets as well as places to manufacture these goods. The international focus drove competitiveness in areas of quality, delivery and cost.
As we learned the Japanese economic engine was driven by a strong manufacturing base with a focus on lean principles. Lean, in its most primary definition, is a series of tools to reduce the amount of time it takes to complete a process cycle. The reduction in cycle time allows the operation to complete more in a shorter period of time. The driver behind this concept is waste, which, if eliminated, will create more value in a shorter period of time. Waste is evident in every business process. So eliminating waste from all processes is not a small task but one of high value.
In contrast, six sigma is a method to increases quality and reliability via the reduction of errors in a process. The focus is to identify variation from all areas of the operation, seek root cause and apply controls to increase reliability and predictability. The intended result is a high level of quality with the elimination of rework.Doing so will allow the organization to meet their delivery and cost targets. If successful, the firm may compete effectively on an international basis.
So why are the concepts of lean and six sigma so important to a business professional? The quick answer, all businesses are process driven regardless if goods or services are produced. The need to maximize productivity with limited resources demands excellence throughout the value chain. The competitive landscape demands firms to be value driven. The value chain from supplier to customer is ripe for analysis and improvement.
In a recent graduate operations class, I instructed a student from the health care field pursuing an MBA in health care administration. When I reviewed the topic of lean/six sigma in class she was quite interested in learning more about it. She worked on the clinical side of the hospital but was pursuing an MBA to move to the business side. Quality deployment in the health care industry was nothing new to her. But she never explored lean before. Her professional experience and background gave way to an opportunity for a great case study in class! Being a practitioner in a manufacturing environment I could share one perspective of lean/six sigma, I live the concept daily interfacing with both domestic and international operations. Her experience provided another lens and gave the class the opportunity to explore the application of lean/six sigma in a service (health care) application. This student graciously shared "current state" processes. Using these two key principles, the reduction of variation and the standardization of process the class formulated a "future state" applying the principles to a real world case study.
In conclusion, knowledge of lean and six sigma should be a requirement for all professionals. Whether pursuing a profession in international management, accounting/finance or health care, adding these concepts to your "tool box" will be well worth the effort. Become practitioners of these concepts, teach others and apply to everything you do.
Related Benedictine Programs
Benedictine's online MBA allows students from many industries to come together to learn from each other and their professors while applying real world case studies. If you would like to learn more about Benedictine's online MBA that offers seven concentrations and dual degree options click here or speak with a Program Advisor today.
About the Author
Pete Papantos is an operations director at a Fortune 500 company. He is responsible for the global execution of their strategic plan and driving operational excellence using lean methods. In addition, Pete is a graduate instructor with emphasis in operations and strategic management — both in traditional and online settings.