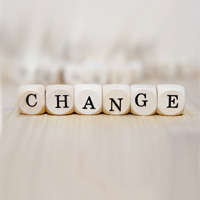 Markets are dynamic, always changing. In order to meet the future needs of the markets a business must also be dynamic. If a firm fails to change with the needs of the market its future may be doomed. Think of the products Underwood or Merry-Go-Round sold. No clue? Exactly! Underwood sold typewriters and Merry-Go-Round sold trendy teen clothes. Both failed due to changes in technology and/or market preferences.
My opening discussion with my online Master of Business Administration (MBA) students focuses on what makes an effective strategic leader. One area of focus is the ability to identify changing needs of customers and reacting to these needs. The ability to recognize these changes and transform the business strategy is important. A fundamental component of change management is effective communication to all associates of the firm. Think of it as driving a car. You know you want to make a left turn. You may just proceed with the turn and quite possibly surprise other motorists. Or you could use your turn signal to tell others which direction you will now be heading. If I know where you are heading I know what I have to do.
In some cases it may start with a change of the vision, mission and guiding principles. This not only alerts associates change is coming but also includes customers, suppliers and other stakeholders. But is this enough? Not necessarily. What must a firm do to transform the vision, mission and guiding principles into a plan everyone in the firm understands? 
The answer is quite simple. Communicate, communicate and then communicate! Making the changes clear and concise to all levels of the organization will help ensure success. Telling the world we are now "turning left" will build the consensus required for change. Starting at the top and working through the organization the message must be clear. If ambiguity exists in the message associates will draw their own conclusions.
Reinforce the message on a daily basis. Ensure key managers in the organization embrace and help drive the change. Learn to speak the same language and define the changes the same way. Ensure every level of the organization has an understanding of what is now expected of them. Build a consistent theme throughout the organization. Support the change with new action plans. Leave nothing up to chance!
The use of social media broadcasts these changes to the external environment. Within the firm "walking the talk" is an effective tool. There must be consistent reminders of where the firm is headed. Whatever method is used to reinforce change it all starts with a turn signal.
Related Benedictine Programs
If you are interested in learning more about how you can hone your professional skills in change management, check out Benedictine's online Master of Business Administration (MBA) or Master of Science in Management and Organizational Behavior.
About the Author
Pete Papantos is an operations director at a Fortune 500 company. He is responsible for the global execution of their strategic plan and driving operational excellence using lean methods. In addition, Pete is a graduate instructor with emphasis in operations and strategic management — both in traditional and online settings.