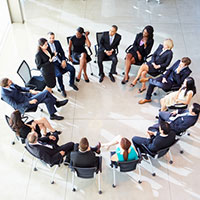 Ah yes, another strategic planning cycle complete! For the past week the team sat around a table to devise and review a plan reaching as far out as five years into the future. True, the further a firm forecasts into the future the less accurate, but goals and objectives are necessary. Honing the five year plan down to next year's objectives builds vision and focus for the entire organization. After all, it is quite important to ensure everyone throughout the organization is aligned, marching to the same beat of the drum and making progress. Included in the plan are series of measures to achieve these important goals to include action plans and metrics. Once the plan is finalized it is shared with the remainder of the organization and life is good. It is time to kick back and start to "execute." Easy yes? Not always!
Ask yourself what drives the execution of a strategy? If you answer people (associates) you are correct. What makes associates want to hear the message and take the appropriate actions? It is the culture that drives performance. You see, no matter how sound the strategic plan, a toxic culture will doom the plan to failure. Not that a supportive culture will breed success! Many fine organizations with strong cultures have and will fail for various reasons whether technical or managerial related. But this author strongly believes a strong culture will drive the firm's strategy and conversely a strategy will underperform if the culture is not aligned.
So how do you create a strong culture? I once worked for a President of a firm that was admired and supported by the organization. This individual earned praise in how he treated associates throughout the organization. He made everyone feel important no matter if the individual was a senior executive or packing product into boxes. At a quarterly company review he shared a thought of what a strong culture creates ownership. He shared a story that I remember to this day. To paraphrase what he said, "at the end of a long day you look at the clock and it is time to go home. As you are heading for the door the telephone rings. You ask yourself should I answer it. After all it is quitting time. You also ask yourself this may be important. So you answer the phone and assist the caller. You acted like an owner!" He paused for a bit and then said "Oh, yes by the way, it was not your phone that was ringing!" The lesson he instilled as shared by W.Edwards Deming in his teachings was "pride of workmanship". How better to deploy a strategy that have owners throughout the organization!
The idea of having a strong culture should be at the forefront of each business leader's agenda. Benchmarking successful firms is a good way to start. But there is also value in the study of firms that failed. Aligning the strategic plan with cultural fit should be an important topic of discussion at each planning cycle. True, some firms use employee surveys, VOE (voice of the employee) in an attempt to gauge the strength of the current culture. However, a Likert scale survey has limitations into defining the "whys". But it is a good starting point and the output may be further examined in follow-up reviews. This enables managers with what is needed to further align culture to the strategy.
Every manager is bound to transform the strategic plan into actions. The business climate must be conducive to supporting and enabling all associates to progress goals and objectives. Embracing ownership from each and every associate is the fundamental link to success!
After all ask yourself "what would I do if I heard the phone ringing?"
Related Benedictine Programs
If you are interested in learning more about aligning strategy with culture, check out Benedictine's Management and Organizational Behavior program, which offers courses on Organizational Culture, Strategic Management and Strategy, and Organizational Behavior. Benedictine University also offers a Bachelor of Arts in Organizational Leadership. To learn how an online degree from Benedictine can help you hone your leadership skills talk to a Program Manager today.
About the Author
Pete Papantos is an operations director at a Fortune 500 company. He is responsible for the global execution of their strategic plan and driving operational excellence using lean methods. In addition, Pete is a graduate instructor with emphasis in operations and strategic management — both in traditional and online settings.