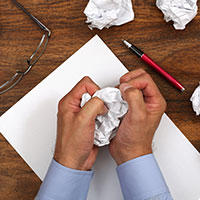 A lot of the discussion around innovation seems to focus on finding new ways to solve problems. This makes sense being that the definition of innovative in business is being creative with some part of the business model, then successfully implementing and executing those creative ideas (Von Stamm, 2008). That creativity can be a tricky concept for properly trained business managers, and we have to be reminded that it is about finding ideas that may be useful in solving problems, communicating with others, and being entertaining (Franken, 2006). But let's assume we have no problem coming up new ideas in rapid fire succession for any problem that presents itself. Do we just 'throw them on the wall and see what sticks?" Do we "just put it out there?" Should we just brainstorm the heck out of it and assume things will take care of themselves? Despite what some business guru's might say, the honest answer to this question is no. Frankly, there is lot more to it than that.
Whenever I hear someone talk how idea generation is all that matters, I am reminded of Bill "Blaze" Blazejowski. In case this name doesn't sound familiar, he is a fictional character played by Michael Keaton in Ron Howard's 1982 move Night Shift. He literally bursts through the door and onto the scene and proclaims himself to be an 'idea guy'. He then proceeding to babble his latest concoctions into his handheld cassette recorder (it is 1982). The problem is most of his ideas were really dumb. For example, feeding mayonnaise to tuna fish so that people don't have to mix it and can eat it out of the can. In fact, it isn't until he connects with hard working MBA Chuck Lumley that any of his ideas work. Of course the one that works is illegal, immoral and very politically incorrect, but it's a move so we'll let it slide. So what is the point of this fictional example? The point is that even great ideas don't go anywhere without good hard work. Or as the principle of my high school used to say, there is nothing useful about inspiration without perspiration.
One of best real life examples of this axiom is the story of WD-40. While the uses for WD-40 have expanded to include many different lubrication and rust removal applications, it was originally created in 1953 by chemist Norm Larsen as a way to prevent corrosion on nuclear missiles. Why was it called WD-40? The WD part stands for Water Displacement, which is what the product does, and why it so useful for lubrication and rust removal. The 40 is because that was the 40th formula they actually tried out. Not just the 40th they considered, but the 40th that they actually put together into a test batch and tested. This means there were 39 other different formulation attempts that failed. So it wasn't just the inspiration to meet some need that led to this very innovative product, it was the perseverance and perspiration to keep trying to make it right. Sometimes persevering is the most innovative thing we can do.
References
Franken, R. E. (2006). Human Motivation, 6th eds. Independence, KY: Cengage Learning.
Von Stamm, B. (2008). Managing innovation, design and creativity (2nd ed.). Chichester, United Kingdom: Wiley.
Related Benedictine Programs
If you're interested in learning more about innovation, Benedictine's MBA in Entrepreneurship and Managing Innovation focuses on instrumental success factors to assess and explore new business opportunities including managing creativity, building a business plan, and financing your venture. Benedictine University also offers online Undergraduate degree programs. To learn how an online degree from Benedictine can help you in a new business venture talk to a Program Manager today.
About the Author
Jimmy Brown, Ph.D. is a senior level management consultant with eighteen years of experience leading efforts to develop and implement practical strategies for business performance improvement. Dr. Brown has held senior level consulting positions at leading firms such as Booz-Allen & Hamilton, Accenture and Hewlett-Packard.
He can be reached at www.jimmybrownphd.com or via Twitter @jimmybrownphd