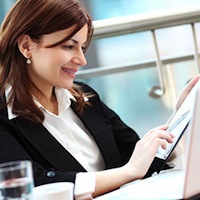 The Master of Business Administration (MBA) has long been the gold standard for business professionals who wish to advance to senior levels. The online MBA at Benedictine University combines a respected program at a traditional institution with the convenience of online learning.
The potential career benefits from an MBA include:
A Higher Salary: A professional degree often leads to a raise in salary. Statistics vary depending on the field, but MBA holders generally earn more and are less likely to be unemployed. According to the U.S. Bureau of Labor Statistics, professionals with a Master's earn an average of $1329 more per week than those without.
Higher Likelihood of Promotion: Employers often give preference to workers who earn an MBA to advance their career. The knowledge and management skills acquired qualify an individual for managerial and other higher level positions. In fact, according to a poll administered by the Graduate Management Admission Council (GMAC) 60 percent of executives, managers and recruiters polled plan to hire MBA degree graduates
Advanced Skills: An MBA provides the opportunity to develop communications, research, and collaborative skills, while better understanding ethical decision making and key areas such as marketing, finance, and economics.
Advantages of an Online MBA
Traditionally, deciding to enroll in an MBA program came with many considerations. Students often weighed going directly for their master's or finding a job first. Today, business schools accept those who have little work experience or who have spent years in the corporate world. With online graduate degree programs, various specializations can be pursued; course content is usually the same as an in-classroom degree program, but there are additional benefits.
Flexibility: An online master's degree means students can continue working at their current job, and even apply the skills learned to their work. Also, they can complete the coursework during free hours. This means continuing to earn a salary, while not having to relocate and incur related expenses.
Access to a Global Professional Network: With students and alumni from all around the World, students have access to a professional network not just within their home state but around the country as well.
The online MBA at Benedictine University offers a robust curriculum delivered in the latest learning management technology. Students can access coursework, chat with classmates, communicate with instructors and more. To learn more about the program, go to online.ben.edu or call (866) 295-3104.