Instructor, RN to BSN Advisor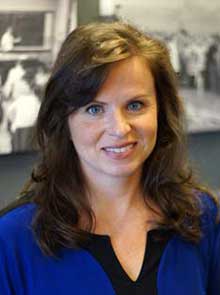 Ms. Peggy Young joined Benedictine University full-time in 2015 .However, Ms. Young has been connected to BenU for several years, having completed both Benedictine's RN-BSN completion and MSN online programs. Furthermore, she has been adjunct faculty for BenU since 2012 teaching various courses, including Nursing Theory and Community Health. Prior to joining Benedictine full-time, Ms. Young was faculty and Clinical Coordinator for Triton College. Ms. Young has clinical experience in Medical-Surgical, Labor & Delivery and Postpartum nursing. Ms. Young's background also includes extensive experience in quality improvement. 
Ms. Young began her research agenda through her involvement in a research project that landed her at Mayo Clinic's Quest for Quality conference. There she presented the research that she and her colleagues conducted with mothers post-delivery. Most recently, Ms. Young completed a two year term as chair of Leadership Succession for the Lambda Upsilon-at-Large Chapter of Sigma Theta Tau International Honor Society, following service as both vice-president and president of the chapter. Ms. Young continues as an active member of our chapter of Sigma Theta Tau, while also a member of the Association of Women's Health, Obstetric and Neonatal Nursing (AWHONN) and a Certified Provider in Healthcare Quality (CPHQ).